Sylvester McCoy on guesting in Holby City: Just what a hospital needs… two Doctor Whos!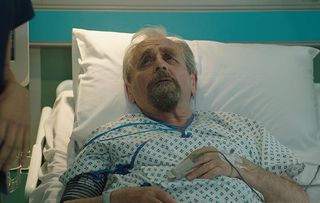 Double Time Lord trouble!
Holby City already has one ex Time Lord in the shape of Paul McGann and it's set to have another as former Doctor Who star Sylvester McCoy is poised for a guest stint.
The 74-year-old actor, who played the Doctor from 1987 to 1989 before he regenerated into Paul's Time Lord in the 1996 television film, will appear as a patient.
His character, described as "an adventurous patient," will end up on Holby's Darwin Ward after running away from his retirement home.
The veteran star, who'll appear in the autumn, quipped: "Just what a hospital needs: two Doctor Whos!"
Simon Harper, Executive Producer of Holby City and Casualty, added: "Sylvester is a fantastic actor and a TV icon – and there's an added buzz in having both the seventh and eighth Doctor Who under one roof at Holby! Let's hope it doesn't result in a Time Paradox….."
Meanwhile, Sylvester last year welcomed the news that Jodie Whittaker was next in the TARDIS, tweeting: "Congratulations Jodie Whittaker!!!!! One small step for Women, one Giant leap for Womenkind!!"
We wonder how long it will be before new Time Lord Jodie winds up in Holby!
Get the latest updates, reviews and unmissable series to watch and more!
Thank you for signing up to Whattowatch. You will receive a verification email shortly.
There was a problem. Please refresh the page and try again.