The Book Thief | Cosy coming-of-age drama puts a gloss on the horrors of Nazi Germany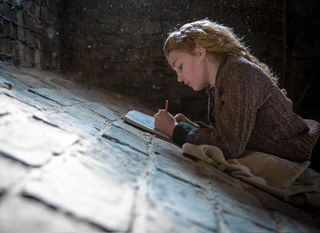 (Image credit: Jules Heath)
The world of books provides escape and solace for an illiterate nine-year-old girl amid the horrors of Nazi Germany in this well-acted but overly decorous coming-of-age drama based on Markus Zusak's bestselling 2006 novel.
When The Book Thief opens in 1938, the plucky Liesel (Sophie Nélisse) has been put up for adoption because her communist mother is facing exile or prison, or worse. Given a home by soft-hearted sign painter Hans Hubermann (Geoffrey Rush) and his prickly wife Rosa (Emily Watson), she learns to read with Hans' aid, starting with the book she had previously stolen from her younger brother's snowy graveside: The Gravedigger's Handbook.
Nazi book burnings in their small town provide opportunities for acquiring other, albeit singed, volumes. And after the Hubermanns give secret refuge in their basement to a young Jewish man (Ben Schnetzer), Liesel takes books from the library of the mayor's wife to read to him when he falls dangerously ill.
Showing tragic events through a child's eyes can be a powerful storytelling strategy, but there's something altogether too cosy and bland about Downton Abbey director Brian Percival's handling of the material here. The film's voiceover narration, which finds Roger Allam in the character of Death, comes across on screen as overly whimsical as well.
But the acting is appealing and goes some way towards compensating for the film's flaws. Rush gives Hans genuine warmth and heart; Watson lets us glimpse the tenderness the irascible Rosa tries to keep hidden; and Nélisse matches her adult co-stars with a remarkably assured performance. In terms of her physical appearance, she doesn't age particularly convincingly over the six or so years in which the film is set, understandably so. But she does a superb job of portraying Liesel's inner resilience and growing emotional maturity. A shame, then, that this isn't a worthier showcase for her talent.
Certificate 12A. Runtime 131 mins. Director Brian Percival.
https://www.youtube.com/watch?v=hEnLF-pCybw
Get the latest updates, reviews and unmissable series to watch and more!
Thank you for signing up to Whattowatch. You will receive a verification email shortly.
There was a problem. Please refresh the page and try again.