Hangmen Also Die! (1943) | A must-see wartime Hollywood classic about the Czech resistance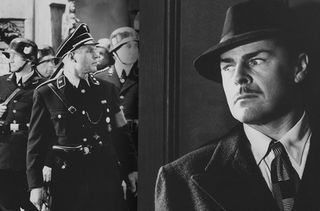 Fritz Lang's 1943 anti-Nazi suspense film about the aftermath of the assassination of Reinhardt Heydrich, 'Hitler's hangman', in Czechoslovakia gets a UK 2k restoration release from Arrow.
At the height of the Nazi occupation of Czechoslovakia, four German exiles in Hollywood – director Fritz Lang, playwright Bertolt Brecht (earning his only US credit here as Bert Brecht), composer Hanns Eisler and actor Hans Heinrich von Twardowski – pooled their talents to conceive Hangmen Also Die!, an important historical film from 1943 about the Czech resistance, which gets a 2k restoration release from Arrow in the UK from 29 August.
Taking as its starting point, the assassination of the real-life Nazi 'Reich-Protector'of Czechoslovakia, Reinhard Heydrich (Twardowski), Lang's studio-bound suspenser sees an act of kindness by the courageous Marsha (Anna Lee) – she hides the culprit (Brian Donlevy) from the Gestapo – result in her history professor father (Walter Brennan) being taken hostage along with 400 Czech compatriots to face execution unless the assassin is turned over...
Shot in atmospheric black and white by the legendary James Wong Howe, and featuring a Oscar-nominated score from Eisler, Lang's anti-Nazi gift to wartime American cinemagoers is a gripping blend of war picture, film noir and political thriller. It may loose points for being Hollywood-fied (all the non-Nazis have American accents and Twardowski's Heydrich comes off like Colonel Klink in Hogan's Heroes), but its revolutionary spirit and themes of 'No Surrender' wins through.
The Arrow release features a 2012 2k restored print by Pinewood from the Cohen Film Collection, and includes an audio commentary by film historian Richard Peña, along with an interview with author Robert Gerwarth on the life of the real-life Reinhard Heydrich, plus newsreel footage, restoration comparison and trailer. The first pressing of this release comes with a collector's booklet.
Hangmen Also Die! is a must-have for fans of Fritz Lang fans and wartime cinema.
https://www.youtube.com/watch?v=dDHR1Y_WfbU
Get the latest updates, reviews and unmissable series to watch and more!
Thank you for signing up to Whattowatch. You will receive a verification email shortly.
There was a problem. Please refresh the page and try again.