John Wick | Film review - Keanu Reeves' lone avenger rescues the action movie genre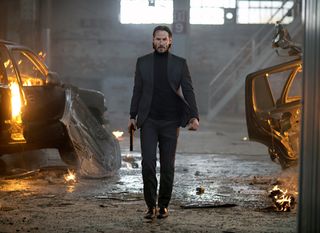 (Image credit: David Lee)
Just when you thought it impossible to endure yet another action thriller in which an improbably indestructible lone avenger cuts a swathe through scores of thugs, goons, hoods and other disposable bad guys, along comes Keanu Reeves to save the day.
His invincible hero pulls off these feats in John Wick, but he does so with such drop-dead cool that the film becomes more and more absurdly entertaining the longer it goes on.
The team behind the camera display similar panache. It takes quite some nerve, after all, to pitch us a plot in which a retired assassin goes on a killing spree because someone killed his dog.
This is what Keanu's eponymous John Wick does after the slimy son of a Russian Mafia boss nicks his vintage Mustang car and, unforgivably, bumps off his cute beagle puppy, a gift from his dying wife. Suffice to say, he doesn't take the loss well, which is very bad news for the crime lord (Michael Nyqvist, star of the original, Swedish The Girl With The Dragon Tattoo), his craven son (Game of Thrones' Alfie Allen) and the many unfortunate henchmen who stand in John Wick's way.
The set-up couldn't be more preposterous, but stuntman turned director Chad Stahelski (Reeves' double in The Matrix) and screenwriter Derek Kolstad tackle their story's absurdity with gusto, conjuring up a hyper-stylised world in which off-duty hit-men hang out in New York in a splendid Art Deco hotel, using gold coins as currency to pay for such services as corpse disposal and laundry. ('No one's that good,' is the response of the hotel's unflappable concierge, however, when a blood-soaked John requests the latter service.)
Stahelski and his collaborators really show their mettle, though, when it comes to the film's extravagant battles. Eschewing fast cuts in favour of long, beautifully choreographed takes, they give the fight scenes a clarity and grace that puts most other action movies to shame.
The film's supporting cast pull their weight admirably, too – Willem Dafoe, Ian McShane and Adrianne Palicki, for example, all deliver droll turns. But this is very much Keanu's show. So laconic he makes the average Trappist monk look loquacious, he nevertheless invests his grief-stricken character with sly humour and emotional depth. And when it comes to the combat, he moves with a deadly lissome ease that leaves his cinematic rivals in the dust.
Certificate 15. Runtime 101 mins. Director Chad Stahelski.
https://www.youtube.com/watch?v=RllJtOw0USI
Get the latest updates, reviews and unmissable series to watch and more!
Thank you for signing up to Whattowatch. You will receive a verification email shortly.
There was a problem. Please refresh the page and try again.