Priest - Paul Bettany's holy warrior crosses the vampire horde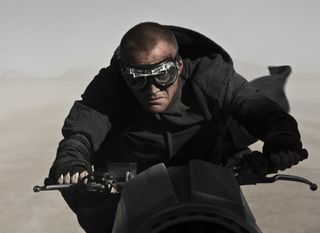 (Image credit: Scott Garfield)
Playing clerical killers is becoming a habit for Paul Bettany. In The Da Vinci Code he was a murderous albino monk, but post-apocalyptic fantasy thriller Priest finds him on the side of good as a warrior priest fighting off vampire hordes in a retro-futuristic Wild West.
Officially retired, Bettany's protagonist springs into action – on a jet-propelled motorbike, no less - after a band of marauding bloodsuckers kidnap his niece. Joined by the young sheriff who loves her, he dashes to the rescue – but vows to kill the girl if she has already been infected.
Loosely based on a Korean comic-book series, Priest throws together steampunk sci-fi, vampire horror and Spaghetti Westerns but the resulting mix is something of a hash. The film looks good and the action sequences have zip, but the characters are underdeveloped and the dialogue is dire, although Bettany's hero and Maggie Q's lithe Priestess almost pull off the hokum.
By the way, if the uncle-niece plot seems familiar, it's because the story is that of John Wayne's The Searchers, only with vampires instead of Comanches.
Released on DVD & Blu-ray by Sony Pictures Home Entertainment.
Get the latest updates, reviews and unmissable series to watch and more!
Thank you for signing up to Whattowatch. You will receive a verification email shortly.
There was a problem. Please refresh the page and try again.