The Girl on the Train | Emily Blunt's riveting heroine keeps this mystery thriller on track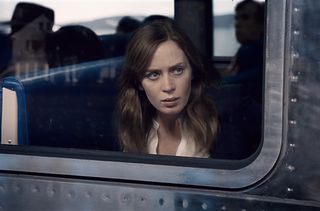 Paula Hawkins' bestselling amnesia thriller The Girl on the Train makes its way to the big screen, meeting a few bumps on the line along the way but never in danger of going off the rails.
The titular Train now rattles through the upscale outskirts of New York rather than London's cramped suburbs. And the eponymous Girl, as played by Emily Blunt (Sicario), is far prettier than the overweight alcoholic sad sack of the book.
Yet not many viewers will find these changes deal-breakers: the story remains a gripping psychological mystery. As for its heroine, she's still a prickly, sympathy-challenging protagonist. Blunt's beauty can't be disguised by puffy skin and red eyes, but her Rachel is still a total mess, a self-loathing drunk reeling from the smash of her marriage.
She drunk-dials her ex, stalks his new wife and suffers from alcoholic blackouts. She is also fixated on the young woman she sees from her train window during her daily commute into Manhattan. Megan (Haley Bennett, The Magnificent Seven) and her hunk of a husband (Luke Evans, Dracula Untold) appear to have a perfect marriage.
Rachel spies them blissfully canoodling on the deck of their house beside the tracks. And the fact that they live a few doors away from the home Rachel's ex-husband Tom (Justin Theroux) now shares with his new wife Anna (Rebecca Ferguson) and their young child only rubs salt into Rachel's psyche.
When she sees Megan apparently cheating on her husband, the betrayal seems personal. She decides to confront her but can't remember anything of the encounter the following morning. Worse, she has bruises she can't account for and Megan has gone missing…
Director Tate Taylor (The Help) can't match the steel-trap tension David Fincher gave to Gone Girl – the film with which The Girl on the Train will inevitably be compared. And he doesn't have Fincher's satirical bite. But he does an effective job of juggling the story's different points of view – Rachel's, Megan's, Anna's – and different time frames. And he gets striking performances from his cast, above all from Blunt, who takes us somewhere we'd rather not go - inside Rachel's woozy, troubled mind.
Certificate 15. Runtime 112 mins. Director Tate Taylor
https://www.youtube.com/watch?v=l5_Iiu_uWI8
Get the latest updates, reviews and unmissable series to watch and more!
Thank you for signing up to Whattowatch. You will receive a verification email shortly.
There was a problem. Please refresh the page and try again.