The Villainess | South Korean action thriller delivers a roaring rampage of revenge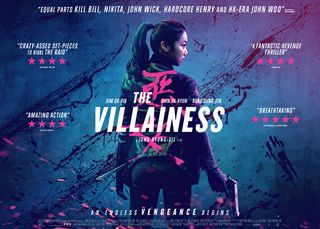 South Korean revenge thriller The Villainess boasts insanely go-for-broke action but little emotional depth.
An Endless Vengeance Begins.
South Korean action thriller The Villainess opens with a sequence of unfettered carnage as a vengeance-seeking fighter shoots, stabs and hacks her way past dozens of adversaries as she seeks her well-protected target. Reminiscent of the notorious corridor fight scene from Oldboy but shot from its protagonist's subjective POV, the episode will leave you gasping and wincing in equal measure.
Jung Byung-gil's movie doesn't sustain this level of intensity, however, when the story proper gets going. In the battle's aftermath, Kim Ok-bin's heroine, Sook-hee, gets captured by the police and press-ganged into joining a secret government programme that trains assassins for the country's intelligence agency – a plot device blatantly pinched from Luc Besson's Nikita, as is much else that follows. It turns out that Sook-hee is pregnant, but in return for 10 years service she and her daughter will win their freedom.
Yet even though the stakes are higher for its heroine, The Villainess never achieves the emotional depth of Besson's film. In between missions, Sook-hee enjoys a halting romance with her handsome neighbour (Sung Jun), while flashbacks to her past fill in details of the murder of her gangster father and her marriage to a crime kingpin. Even so, despite learning more about Sook-hee we don't feel her anguish as much as we might hope. Still, the film's insanely go-for-broke action sequences are terrific.
Certificate 18. Runtime 124 mins. Director Jung Byung-gil
The Villainess launches the London Korean Film Festival on Monday 11 September, 7.30pm, Regent Street Cinema. The film opens in UK cinemas and on Digital HD on Friday 15 September.
https://www.youtube.com/watch?v=gE41r_vqpNA
Get the latest updates, reviews and unmissable series to watch and more!
Thank you for signing up to Whattowatch. You will receive a verification email shortly.
There was a problem. Please refresh the page and try again.