To Live and Die in L.A. (1985) | William Friedkin's explosive crime thriller looks stupendous in this new 4K restoration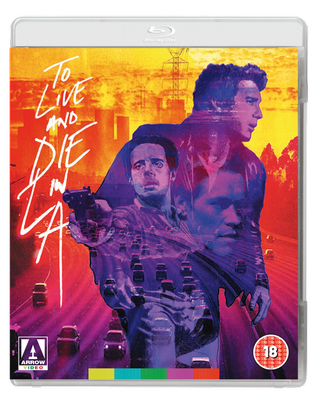 In the 1970s, director William Friedkin made The French Connection and The Exorcist. In the 1980s, he equalled them with To Live and Die in L.A. Now, the stylish thriller is out on dual format following a brand new 4K restoration.
A pre-CSI William Petersen turns in one of his best movie roles as US Secret Service agent Richard Chance who goes after suspected forger Eric Masters (Willem Dafoe at his villainous prime) when he swears to break all the rules to avenge the death of his partner at the hands of a killer…
Fasten your seat belts for an explosive, dizzy ride that hits a high in a stupendous car chase – the wrong way up a freeway! To Live and Die in L.A. marked director William Friedkin's return-to-form and is 1980s action at its most stylistic – complete with flashy photography from Robby Müller (Paris, Texas) and a rowdy rock soundtrack by British new wavers Wang Chung.
Out now on dual format from Arrow Video, this explosive release includes the following features…
• Brand new 4K restoration from the original 35mm negative supervised and approved by director William Friedkin • High Definition Blu-ray (1080p) and Standard Definition DVD presentations • Optional 5.1 Surround and 2.0 Stereo audio (with DTS-HD Master Audio and Uncompressed PCM on the Blu-ray) • Optional English subtitles • Audio commentary with William Friedkin • Taking a Chance: Interview with actor William Petersen • Doctor for a Day: Interview with actor Dwier Brown • Renaissance Woman in LA: Interview with Debra Feuer • So In Phase: Scoring To Live and Die in LA: Interview with composers Wang Chung • Wrong Way: The Stunts of To Live and Die in LA: Interview with stunt co-ordinator Buddy Joe Hooker • Counterfeit World: The Making of To Live and Die in LA: Archive featurette containing interviews with Friedkin, actors William Petersen and Willem Dafoe, and others • Alternative ending • Deleted scene • Stills gallery
https://www.youtube.com/watch?v=s2f1BRCTSCo
Get the latest updates, reviews and unmissable series to watch and more!
Thank you for signing up to Whattowatch. You will receive a verification email shortly.
There was a problem. Please refresh the page and try again.