Taxi legend Tony Danza on 40 years of the US sitcom: 'I was number one on the call sheet!'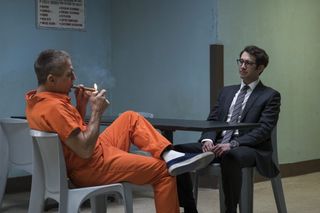 (Image credit: Michele K Short/Netflix)
It's hard to believe that it's 40 years since Tony Danza got his big break in the hit US sitcom Taxi.
Then 27, Tony Danza lined up in a cast who would all become household names - Judd Hirsch, Christopher Lloyd, Danny DeVito among them - and went on to star in Who's the Boss and host his own talk show.
Now a spritely-looking 67, Danza is co-starring with singer Josh Groban in the new Netflix crime drama The Good Cop. Set in New York's Brooklyn neighbourhood, the series centres on father and son Tony and TJ (Tony junior) Caruso, the latter being the good cop of the title.
We caught up with former Taxi star Tony Danza to find out more...
By coincidence this show comes 40 years after Taxi started – how does that feel?
Tony Danza: "Yes, it's the 40thanniversary of Taxi – imagine 40 years later I was number one on the call sheet! You know what that means? It means: 'Here's your sandwich Mr Danza!'"
Are you still in touch with your Taxi co-stars?
TD: "We're all in touch. Marilu [Henner] is here doing a show on Broadway; Danny [DeVito] is back and forth; Carol [Kane] lives just around the corner. We're all close."
Your Good Cop character Tony Caruso looks like fun to play...
TD: "You've hit it on the head. I don't' think I've had more fun acting since Who's the Boss. He's such a great character. It all comes back to the writer Andy Breckman, who also wrote Monk."
What's your take on the dynamic with Tony's son TJ?
TD: "I love the father-son angle. I have an older son, and we're like best friends – I sort of overlaid that relationship right on top of Josh [Groban, Tony's co-star], and he bought right into it. That's why we've got this really fun thing going."
The Brooklyn setting must have been very familiar to you…
TD: "Yes, of other the joys of the show was that we shot all over New York City. I'm a New Yorker and, when you get that chance to use the city as your canvas, I can't tell you how exciting it is. I live here and I love it here. It was a joy to go to work – hard, but joyous."
The Good Cop is available on Netflix from Friday 21st September. Pic credit: Michele K Short/Netflix
Main pic: Andrew H. Walker/REX/Shutterstock
Get the latest updates, reviews and unmissable series to watch and more!
Thank you for signing up to Whattowatch. You will receive a verification email shortly.
There was a problem. Please refresh the page and try again.