Alex Shane: 'World of Sport Wrestling will create a new generation of household stars!'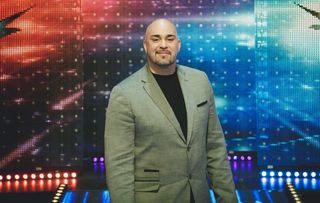 Let's get ready to rumble as World of Sport Wrestling returns to ITV…
There are bouts, boasts and bruises galore as flamboyant British grapplers in Lycra and leotards get to grips with each other. After a successful one-off pilot in early 2017, World of Sport Wrestling returns to ITV on Saturday afternoons for 10-part series.
There's plenty of high-flying action with pro wrestlers such as 'Superbad' Kip Sabian, Grado, Sha Samuels 'The East End Butcher' and even a former Love Island star Adam Maxted. The women's action has Viper, recently seen on a BBC1 documentary. Stepping into the ring this first week are Will Ospreay, whose intriguing nickname is the 'Aerial Assassin' so expect plenty of kicks and flips off the top rope from him! Another is Harry Smith, aka British Bulldog Jr, whose father is the late Davey Boy Smith, a megastar of American wrestling in the 1980s.
What's On TV recently got to grips with former wrestler Alex Shane, who is the show's host and co-commentator…
WOTV: A lot of wrestling fans are glad to see it back on television regularly. What do you think having a 10-part series means?
Alex Shane: "A 10-part series is perfect because wrestling in many ways is athletic physical theatre. We have characters, we have stories and over ten hours, viewers can consume all these great story arcs over 10 parts. The wrestlers all rose to the occasion. I'm not exaggerating when I say we've been left absolutely ecstatic at how it came out and after seeing some of the footage I think World of Sport Wrestling will create a whole new generation of household wrestling stars for the first time in three decades in this country."
WOTV: Do you think it could be as big as it used to be on British TV in the 1970s when Big Daddy and Giant Haystacks were the big stars?
AS: "The world's changed a lot from back when wrestling was at its TV heyday but what this gives us the opportunity to do is to present a whole new generation of wrestling stars that children will be talking about at school, but also with the advent of the internet not only will British wrestlers be huge in Britain but they'll be globally recognised wrestling stars in their own right and that's really exciting because the world's got a lot smaller and wrestling is a universal language, so I think that's really exciting."
WOTV: Which wrestlers should we be watching out for?
AS: "Grado is back, and a great example because he's very much like the stars of yesteryear in Britain. There's a match where halfway through the commentary I say I've not been this entertained since watching Morecambe and Wise make breakfast because Grado is such an entertainer. People live vicariously through Grado, as we love the underdog Grado is the old underdog…"
WOTV: What other wrestlers are exciting?
AS: "I'd say in terms of just sheer athletic prowess and main event calibre Rampage is one. People will love to hate him, he's genuinely a terrifying human being. There's Justin Sysem, we call him superhuman Justin Sysem because when you see what he can do, he really is another level of athlete. Harry Smith, is the son of the original British bulldog Davey Boy Smith. He was on the pilot and he's back for this series and his late dad wrestled in front of 82k people in the biggest British live attended wrestling match in history, so he comes from a tremendous pedigree.'
WOTV: Tell us about some high-flyers?
"Yes the 'Aerial assassin' Will Ospreay, I make no exaggeration when I say this, if you see Will Ospreay he does things that defy gravity, he's a viral sensation across the world. It's a real coup for us to have him."
WOTV: There are women wrestlers too…
AS: "Yes, it's really the most progressive scene. Right now women's wrestling is really blowing up and on the pilot we had the first women's match to take place on TV and now we have a whole series of it and some of those girls are really spectacular. And you've got Viper…BBC1 did a documentary about her…"
WOTV: Some of the wrestling moves look dangerous…is that part of the thrill of watching?
AS: "I retired from active competition at 30 because I was very tall, I was 6ft 5 and a half, and I found that my body did start to break down, the impact and the gravity. Wrestlers want to give the best athletic performance and when you see some of the stuff that happens in the ring there's no way you can see that and not say my god these guys aren't great athletes and it's a high risk environment. We say don't try this at home and we really mean it because it takes years of training and even then accidents and injuries do happen."
WOTV: What goes on backstage seems to be a big part of the series as well. Is that to build the audience's identity with wrestlers?
AS: "We live in a world now of immersive environments, people want a bit of escapism and an environment that they can absorb all of and so the idea of having the backstage rows and fights and all those kind of things just adds to this world. It's kind of like Gotham city I guess and you want to see Batman in the Bat Cave and that's what we do. It also gives that element of feeling that the wrestlers exist outside that square circle itself."
WOTV So wrestling is entertainment as well as a sport?
AS: "Look at wrestling as live art, it's on a giant canvas and essentially what you're doing is you're making the audience feel something whether it's hope, whether it's disappointment, joy and the great thing with wrestling is it creates those moments by design to give the audience a sense of good overcoming evil. So in a way wrestling is a form of art as much as entertainment and a lot of the wrestlers will say they just love doing it but they feed off giving the crowd something, they want the crowd to feel emotion."
WOTV: What's your role going to be?
AS: "Essentially it's host/commentator. We'd got a three person commentary team which I think is really exciting because we all have a very different tone of voice, come from different backgrounds and we've never worked before as a team, so it's quite new."
WOTV: Did you ever wrestle any of these guys?
"I trained a lot of them, which is strange because I'm only 38 but I feel like the granddad of the piece now but yeah, a lot of fans say to me do you miss it, do you want to come back and I always say, every time I watch this show the calibre of the athletes on display I'm so glad I retired because wrestling has evolved."
Big Daddy and Giant Haystacks were hugely famous back in the olden days. Could the present day wrestlers get a big profile like that and do you think they're ready for it?
"There are more wrestling shows in the UK than any other country per square mile in the world and considering we haven't had television for 30 years that's amazing. People always look to America as the place and we've learned a lot from the Americans in terms of the razzmatazz and the glitz and the glamour but actually Britain was the first country on the planet to have a national wrestling show, it was the envy of everywhere, so it feels like we've gone full circle. It's not only comparable to what we had 30 years ago but in terms of the extra elements like the showmanship and the ability to talk on the mic which those guys never had and they didn't need to have, I think we have the best generation of wrestlers we could possibly have asked for."
WOTV: Adam Maxted was in Love Island series 2 and is now a wrestler on the series. Can you tell us a little about him?
AS: "He actually went onto Love Island to get some more notoriety for his wrestling career, which worked and helped get him in this series so that's the level of commitment that these guys have and it paid dividends for him. He's a fantastic wrestler. It's a great testament to the Brit wrestling scene that you get these extraordinary athletes and he's a great looking guy, but he's a lovely, humble human being who just happens to be a superhero when he's in the wrestling ring as well."
WOTV: We love some of the names the wrestlers come up with, like the 'East End Butcher' 'Sha Samuels'…
AS: "And you know where that comes from with Sha? He was a butcher. His family owned an East End butcher's and that's the great thing because you wouldn't have that in American wrestling because it would have no context but yeah his family had a butchers in the East End which he worked in, so he got that name. He is one of the villainous ones."
WOTV: What are the crowds like in the studio?
AS: "It was hot! You can feel not just the heat from the ring but the heat from the people. In wrestling crowd reaction is actually referred to as heat and it was great because to begin with it was very much like a TV audience and then within five or ten minutes all of a sudden when you get into the characters and story arcs. It's just magic."
WOTV: Do wrestlers actually get hurt badly?
AS: "The injuries are very real and it adds to the daredevil element of it but thankfully they go to a wrestling training school. There have been lots of high profile injuries in wrestling like there are in all sports but a good pain threshold is useful!"
World Of Sport Wrestling returns on Saturday 28 July at 5pm on ITV
TV Content Director on TV Times, What's On TV and TV & Satellite Week
I'm a huge fan of television so I really have found the perfect job, as I've been writing about TV shows, films and interviewing major television, film and sports stars for over 25 years. I'm currently TV Content Director on What's On TV, TV Times, TV and Satellite Week magazines plus Whattowatch.com. I previously worked on Woman and Woman's Own in the 1990s. Outside of work I swim every morning, support Charlton Athletic football club and get nostalgic about TV shows Cagney & Lacey, I Claudius, Dallas and Tenko. I'm totally on top of everything good coming up too.
Thank you for signing up to Whattowatch. You will receive a verification email shortly.
There was a problem. Please refresh the page and try again.