Aneurin Barnard: My War and Peace character Boris is 'a mummy's boy, really' (VIDEO)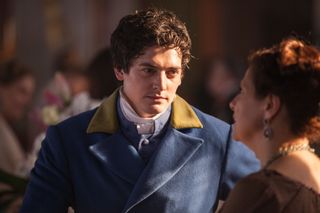 (Image credit: BBC/Laurie Sparham)
Of all the challenges that faced the cast and crew of BBC1's lavish adaptation of Leo Tolstoy's War and Peace, actor Aneurin Barnard's is certainly the nicest we've heard.
Aneurin, 28, plays Boris Drubetskoy in the six-part series, and, as the member of a lower ranking family, Boris is constantly being pressurised to rise up the social ladder by his pushy mum, Anna, played by Lewis and The Thick of It star, Rebecca Front.
Aneurin told What's on TV: "Boris Drubetskoy is a very ambitious soul. He's a mummy's boy really, who's pushed through the ranks by his mother. They are on a double storyline to get their family name up higher within the aristocratical world. So it's all about money and who's going to be his wife, and his rank in the army. You see these two eager people trying to better themselves and not really worrying too much who they hurt along the way."
The challenge came when Cilla and The Scandalous Lady W star Aneurin bonded with Rebecca during filming!
Aneurin said: "The trouble with Rebecca is that she's such a beautiful, lovely woman off-screen, and then the character she plays on-screen… it was difficult to work, actually. In a way, it was a lot more challenging than other things I've done because you've to transform that mentality of her. Rebecca's such a warm, humbling mother in real life, and then when you see this ambitious, mental mother (Anna) who wants her son to get on in life, it changes the dynamic very quickly from your cup of tea next to camera, to the meanie in front of camera!"
For the full interview, watch the video above."]
Get the latest updates, reviews and unmissable series to watch and more!
Thank you for signing up to Whattowatch. You will receive a verification email shortly.
There was a problem. Please refresh the page and try again.