Animal Park returns! 'The best bit is when the animals look on you as part of their family'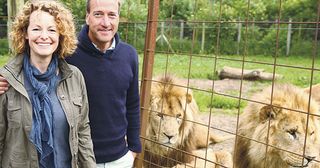 (Image credit: BBC/Endemol Shine UK/Joff Wilson)
As Longleat Safari Park celebrates its half century, keeper Ian Turner reveals what the stars of Animal Park are like off camera…
Ben Fogle and Kate Humble return to Longleat Safari and Adventure Park to present the first series of Animal Park (BBC1, daytime, Monday-Friday) in seven years to mark the park's 50th anniversary.
When Longleat opened in 1966, it was the first drive-through safari park outside of Africa and was an instant hit with visitors who were excited – and a little terrified – at being in such close proximity to lions.
It is now has home to more than 1,000 animals from over 100 different species, including penguins, lemurs, hippos, giraffes, tigers and monkey,s as well as lions.
Ian Turner, 61, has worked at Longleat for 40 years where he has done 'every single job in the park'.
During this time, he has been bitten by a stroppy seal lion, hand-reared orphaned lion cubs and witnessed many animal births.
"The best bit is when the animals show you their new offspring because they look on you as being part of their family," said Ian. "And that's how the keepers see the animals – as part of their extended family."
Here, Ian, guides TV Times through the new series in which Ben and Kate are joined by new presenter Gena Hansen…
Lions on diet (pictured above) "After all these years, the lions are still one of the park's most popular attractions. We try to make things as natural as possible for them. In the wild they wouldn't eat every day, they would eat maybe twice a week, so that's how often we feed them. We get them to chase the meat wagon like it's their prey which means they run around and get some exercise. Once they have worked for their food, we give it to them."
Elderly statesman "Nico is a lowland gorilla and, at 55, is the oldest male gorilla in Europe. He is not over-keen on film crews, but luckily he really likes Kate Humble. If he likes you, he will take yoghurt off a spoon from you but, if he doesn't like you, you can't work with him. You don't get a choice. If he doesn't like you that's the end of the subject, you can never be his keeper. Luckily, he gets on with me and he is one of my favourites."
As seen on TV "The meerkats are really popular, probably because people have seen them so much on TV. Because they're so popular, we made their enclosure a walk-through experience and they run about in front of the visitors. People love them because they look quite cute. But they're not actually that cute and they have sharp teeth!"
Family friendly penguins "Our Humboldt penguins are great and not too noisy! We have hand-reared a lot of them so they are used to people and are good with them. They are in a walk-though exhibit which allows members of the public to get close to them and they are always a great favourite."
Getting to know you… "Even though people are more used to safari parks now than they were when Longleat first opened, there is still that excitement, specially when the lions walk right past their cars and they are inches away from a big cat.
"All the times the public are in the carnivore section, it is patrolled by staff in vehicles to make sure the visitors are safe and the animals are safe. You do get silly things happening like people wanting to get their cameras which they have left in the boot of their cars!"
Up close and personal "You might not see me, but every time there is a bit of filming going on I'm there. I'm making sure the animals are fine and that the film crew is fine."
"Before they started making Animal Park in 2000, the BBC filmed Lion Country here in 1998 and the technology has advanced so much. Their cameras have got smaller. They have infra-red cameras and night-vision cameras for filming after dark. I'm completely blown away by all the gadgets they use nowadays.'
Get the latest updates, reviews and unmissable series to watch and more!
Thank you for signing up to Whattowatch. You will receive a verification email shortly.
There was a problem. Please refresh the page and try again.