Anita Rani: 'When I was 14 I just turned up at the local radio station and said, "Can I have a go?"'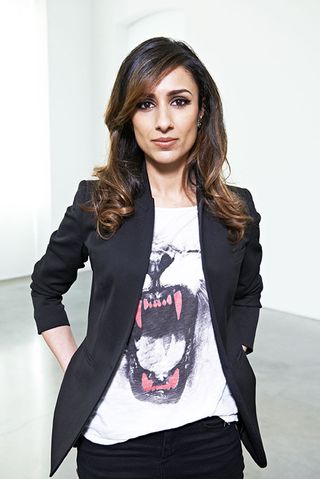 (Image credit: Channel 4 Picture Publicity)
TV Times travels to sunny Derbyshire to meet Countryfile star Anita Rani – a lady who was destined to entertain the nation...
Anyone who watches television will recognise Anita Rani, the pretty and energetic presenter has appeared on so many popular shows – the 2011 royal wedding, The One Show, Four Rooms, Airport Live – that Anita seems to be in our living rooms most evenings.
For the past year Anita's profile has only risen after she landed a gig as a regular on the Sunday staple Countryfile, which regularly reaches nearly six million viewers.
TV Times is on set in deepest Derbyshire today to meet Anita to celebrate her first year as a presenter of the much-loved show.
Your name is becoming increasingly familiar. You are obviously destined to entertain the nation...
"Really? I'm always surprised when people say, 'Oh we saw you in something.'"
How did you feel when the Countryfile team approached you to join its ranks?
"On the day my first episode went out I was so nervous, because it dawned on me that it's actually quite a big deal. Countryfile is such a popular show and cherished by the public. But once it had gone out and I got a good response on Twitter, I was like, 'Yes! I'm part of the family.' And it's so lovely to be out in the countryside each week."
As a child you was brought up in Bradford and regularly spent weekends in the Yorkshire countryside with your parents and younger brother Kuldeep. Tell us a bit about that...
"My father is quite adventurous and wouldn't sit still, so quite often we would head out to Baildon Moor or Shipley Glen or Whitby – it's such a beautiful part of the world. We would often be the only Asians in the countryside and we'd play the game of, 'Look! I've spied another Asian!' My parents were born in India, although my father came here when he was four, so he's a Yorkshireman through and through."
You are going to investigate your mother's side of the family in an upcoming episode of Who Do You Think You Are?...
"The episode is going to illuminate a family history I knew little about. I'd heard so many incredible stories about this grandpa I never met, because he died before my mum got married. My episode is a phenomenal tale of the story of the Punjab from World War I through to partition [of India and Pakistan in 1947]. Fifteen million people were displaced and that's my grandfather's story. It was nerve-racking to make, but a very personal story in a good way."
Have you always been comfortable in front of a microphone?
"I've been doing it since I was a teenager. When I was 14 I just turned up at the local radio station and said, 'Can I have a go?' And before you know it I was on there, presenting.'"
Your first jobs were in youth-oriented TV and radio before joining Watchdog in 2008. But your big break came with Prince William and Kate Middleton's 2011 nuptials. How did you feel?
"When the BBC phones up and says they want you to be part of the royal wedding presenting team, that's when I felt like OK, this is a major deal and a real honour, as I was stationed outside the hotel where Kate was getting ready for her big day."
You've done so much more since then...
"I do lots of different programmes and what unifies them is they're human interest stories. I like talking to people."
What do you do when you're not working?
"Not working?! What is this concept?! Tonight I will head home to east London to my husband, who I hardly see. He's a high-flying tech whiz, but I would rather not give his name because he's a totally chilled out, awesome man who has no desire to be in the limelight."
For the past year and a half you've been renovating a Victorian house. How do you manage that alongside working full-time?
"I have got a lot going on. But I've got the attitude that you've got plenty of time to sit back and relax in the future. Now's the time to be getting on with exciting stuff."
Countryfile continues Sundays at 7pm on BBC1.
Get the What to Watch Newsletter
The latest updates, reviews and unmissable series to watch and more!