Julia Bradbury meets crocs that climb trees in Australia!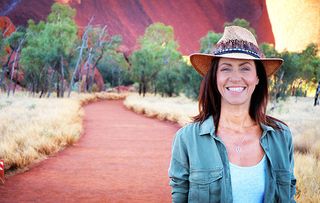 The former Countryfile host will be exploring all four corners of the enormous country in Australia with Julia Bradbury, her new ITV series
From lush rainforests and sandy beaches, to snowy mountains and the arid outback, few countries have such a wide range of spectacular landscapes as Australia. In this eight-part series, Julia Bradbury will be travelling 12,000 kilometres by plane, train, boat – and even camel – to take in the stunning scenery, but she also wants to meet the Australian people and learn about their diverse ways of life.
Next week the former Countryfile host begins her journey across the enormous country in Sydney, where she goes behind the scenes at the famous Opera House and meets lifeguards on Bondi Beach, yet that was just the start of her Australian odyssey…
Here Julia Bradbury reveals all about her new ITV show, Australia with Julia Bradbury
Wow, this sounds like a fantastic trip!
Julia Bradbury: "Yes it was a real privilege to make the series, because while it's an island, Australia is vast and has so much to offer. But the series is just as much about the country's people and we wanted to show the fortitude of Australians and how they thrive in different conditions. It was important to get off the beaten path and look at things from a different point of view!"
Why do you think Australia is such a popular destination with us Brits?
JB: "We Brits have a curiosity about Australia, we have an affinity because it's a commonwealth country, that always pulls in the UK audience. It's a dinner party question… could you live in Australia? could you leave it all behind? I'm not sure I could, but I'm a lot closer after making this series!"
What were your highlights?
JB: "I spent some time with a married couple that run one of the largest and most remote cattle stations in Australia – they're 200 km from anything. They had three daughters, so as a mother myself, I found that quite amazing. There's no school, no shops, no nothing. Two of the girls have to go away to school, their third daughter is left at home alone and is taught with a governess, which sounds slightly grand, but it isn't, that's just the way it has to be."
What creatures did you encounter?
JB: "We had an incredible experience on the flood plains just outside Darwin, which are home to the world's largest population of saltwater crocodiles. They're the largest reptiles on the planet and can grow to over 20ft, so they're absolutely enormous. My guide was a lady called Chase Johnson, whose nickname is 'The Crocodile Duchess', and she told me they can climb trees and are often lying in the branches of mangrove trees, while her boat passes underneath. I didn't get too close to them, as you can imagine!"
What was your favourite part of the trip?
JB: "I really enjoyed meeting an aborigine family, who gave me a tour of a rainforest in Queensland that predates the Amazon, but I've wanted to see The Great Barrier Reef my entire life, so that was a day to remember. It was absolutely wonderful, although sadly half of it has been destroyed by pollution."
We saw you considering getting a tattoo in Sydney, did you get it done?
JB: "I didn't but I wish I had! I'm full of regret! He was a top tattoo artist who'd done Justin Bieber and Ed Sheeran, but by the time I decided I wanted one we had to move on. Maybe I'll go back one day."
Would you like to live in Australia?
JB: "I meet a couple who take care of this tiny island in the middle of the Great Barrier Reef and I wouldn't mind having their job. Unfortunately they told me they weren't planning to leave any time soon!"
Did you miss your family while you were away?
JB: "They were all so jealous when I left, but I've come home with lots of stories to tell. One of the amazing things about Australia is that if you've been in your job for 15 years, you can take a year of paid leave to explore the country. I met lots of people who'd taken their kids out of school and were travelling across the continent to see everything it had to offer. I'd love to be able to do that with my family!"
Australia with Julia Bradbury starts on ITV soon.
Sean has been writing about all things telly for over 10 years and in that time he's been lucky enough to interview stars like Ian McKellen, Tom Hardy and Kate Winslet. His favourite shows are The Great British Bake-Off, People Just Do Nothing and Succession and in his spare time he enjoys drinking tea, doing crosswords and watching football.
Get the latest updates, reviews and unmissable series to watch and more!
Thank you for signing up to Whattowatch. You will receive a verification email shortly.
There was a problem. Please refresh the page and try again.