Baptiste star Jessica Raine: 'I'm good at keeping secrets!'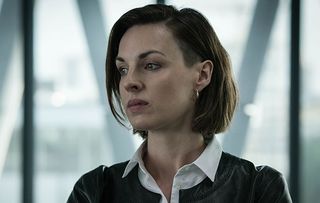 (Image credit: BBC/Two Brothers Pictures)
Jessica Raine on the twists and turns in store as she joins Baptiste as a tough Europol investigator
Jessica Raine is tackling one of her most challenging parts to date as she joins BBC1 thriller Baptiste this week as Genevieve Taylor, a no-nonsense investigator with the EU's law enforcement agency Europol. Genevieve causes ructions when she tries to commandeer Baptiste's (Tchéky Karyo) investigation into a Romanian trafficking gang.
Here, Jessica Raine tells TV Times about her role in twisty thriller Baptiste…
TV Times: Has this been a very different role for you?
Jessica Raine: "Yes, because Genevieve's hard and chippy and I haven't been that before. She's professional but not warm or likeable. I look different too with an undercut in my hair. I loved it! It was during last year's heatwave and I've got thick hair so I just said, 'Shave it off!'"
TVT: How do we first meet her?
JR: "Our first introduction is her being upset and vulnerable visiting a man in a hospital, but next time you see her, she's striding into the police station so it's an intriguing start and you wonder what it means. She's been on this case for a long time and tries to pull rank, although she and Baptiste eventually find respect for each other. But she has a personal agenda…"
TVT: Is it hard keeping the twists a secret?
JR: "I'm good at keeping secrets! The plot is complicated though, you think it's going along a certain track and then suddenly it goes 90 degrees and then 90 degrees again. If you're leaving the room for a cup of tea, put it on pause, because you need to know everything!"
TVT: There's lots of action in the show but you were pregnant during filming , was that tough?
JR: "Everything was do-able, I felt good because most of it was in the second trimester. There was a car stunt but we filmed things cleverly and if we needed another angle that might be dangerous, we used a stuntwoman. I felt taken care of and was pleased I could still be in the car screaming with bullets flying everywhere! It's great showing that when women are pregnant they can still do things - the world doesn't stop."
TVT: What's next for you?
JR: "I want to play it by ear after the baby is born and take some time because it's an amazing period in your life. But I want to keep working so I'll see what scripts come up and what can work. There are so many different characters out there - that's what it's all about for me."
Baptiste continues on Sunday on BBC1 at 9pm
Get the What to Watch Newsletter
The latest updates, reviews and unmissable series to watch and more!
Caren has been a journalist specializing in TV for almost two decades and is a Senior Features Writer for TV Times, TV & Satellite Week and What's On TV magazines and she also writes for What to Watch.
Over the years, she has spent many a day in a muddy field or an on-set catering bus chatting to numerous stars on location including the likes of Olivia Colman, David Tennant, Suranne Jones, Jamie Dornan, Dame Judi Dench and Sir Derek Jacobi as well as Hollywood actors such as Glenn Close and Kiefer Sutherland.
Caren will happily sit down and watch any kind of telly (well, maybe not sci-fi!), but she particularly loves period dramas like Call the Midwife, Downton Abbey and The Crown and she's also a big fan of juicy crime thrillers from Line of Duty to Poirot.
In her spare time, Caren enjoys going to the cinema and theatre or curling up with a good book.