Ben Daniels was 'consumed' by the idea of starring in Doctor Who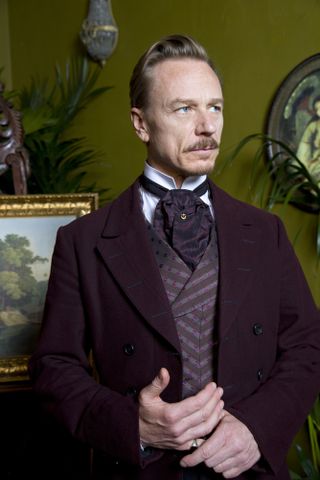 (Image credit: BBC)
Ben Daniels has revealed he was considered as Matt Smith's replacement in Doctor Who.
The Paradise star was in the running to be the 12th Doctor before Peter Capaldi was eventually handed the role.
He told Digital Spy: "Apparently, usually when it's announced that the Doctor is leaving, the new Doctor's already firmly in place. But a BBC email had apparently been leaked, talking about Matt Smith's departure or something, so they had to announce it officially much sooner than they'd have liked.
"I don't know whether my name was also on that email as was stated in lots of those rumours, but I was one of the names on one of their many lists they had as a possible replacement.
"So I was asked, and when I eventually managed to peel myself off the ceiling, I said, 'Yeah, of course it'd be something I'd be interested in doing,' and I was hugely excited by it."
Ben admitted: "I was consumed by the idea, even though I was heavily involved filming The Paradise at the time - often I'd call my agent and make them call Doctor Who and ask if it'd gone away as a possibility.
"It was just so I could stop thinking about it, but then my agent would call me back and say, 'No, you're still on the list'. This went on for a couple of months.
"So I had a good two months to really think about the ramifications of not being able to go to the local pub and so on. I live in the middle of three schools, so it was like, 'OK, maybe I'd have to move'."
Ben said he approved of the show going for an older Doctor: "I knew from the outset, from that initial conversation, that they wanted to cast someone older and I just think it's so great to shake it up.
"The Who fans are just so incredibly passionate about that show, which I absolutely love. They're really vocal. The debates they all have about who it should be and why it should be... but I think Peter Capaldi will just be fantastic."
Ben stars in the new series of The Paradise on BBC One on Sunday.
Get the latest updates, reviews and unmissable series to watch and more!
Thank you for signing up to Whattowatch. You will receive a verification email shortly.
There was a problem. Please refresh the page and try again.