Benidorm star Jake Canuso: 'Mateo scrubs up well for the big wedding!' (VIDEO)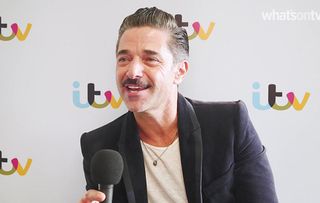 Jake Canuso filmed an exclusive interview about Series 10 of Benidorm and gave us a special song at the end....
As the new series of Benidorm kicks off on ITV, Jake Canuso joined us for a revealing video chat where he filled us in about Mateo's role the big wedding between Joyce and Monty, a lowdown on working with Spandau Ballet's Tony Hadley and Jake even sang our writer a song....
"We have a very big wedding and Mateo is the best man," explains Jake. "He has a very exciting best man's speech and he's doing it properly so he's very passionate about it - he goes on the internet, because he wants to make sure he's doing it the right way. He wants to make sure that he's very respectful of the British traditions, but whether or it goes to plan or he succeeds we shall find out! But just imagine Matteo googling best man speeches, the style they're done in and then say it about a lady… I say no more!."
Mateo is dressed in a very dapper suit for the wedding. "He does scrub up well and do you know I was surprised myself because I'm so used to being in shorts and a vest, jeans and a T shirt that when I put the suit on I was like mmmm, I had to take a photo and send it to my mum!," says Jake. "I thought she'd be very proud. Basically his suit is chosen by Monty, so you can imagine the style. Monty can be quite dapper to some degree. It turns out quite messy, though and the suit doesn't look as pretty when the wedding's finished."
There's a lot of filming on a boat in this Benidorm episode, which Jake became worried about... "I get seasick so I was taking seasick tablets the night before, all morning, certainly overdosed on them. I literally will be sick on a boat within five minutes. I'll be sick on a lilo. If I lie on a lilo on the sea I'll be sick in five minutes. We were on the boat for about two or three hours but I think we were doing quite a lot of overacting really!"
Jake was thrilled that singer Tony Hadley is guest starring in the opening episode as he's a big Spandau Ballet fan. "Yeah it's my era, I loved Spandau Ballet. I was so chuffed when he came, all of us were really happy. We all turn into these superfans. It's so strange with a lot of people who are fans of the show for some reason they're people who we admired in the music industry in the 1980s, you know, Holly Johnson, Bananarama, so all of a sudden we turn into these superfans, it's like I'd turned 14 again.
"But Tony was lovely, a really nice man, really good fun, and also an absolute natural at acting, as he got the timing and the comedy! He also completely understood his part in the episode and we had a private gig with Tony Hadley. I've got a great video that I filmed and we were all like schmoozing around dancing. I was filming him!"
Benidorm begins on ITV on Wednesday February 28 at 9pm
Get the latest updates, reviews and unmissable series to watch and more!
Thank you for signing up to Whattowatch. You will receive a verification email shortly.
There was a problem. Please refresh the page and try again.