10 top athletes who became screen stars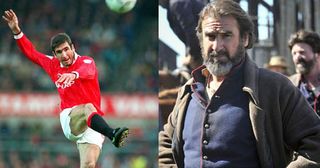 As the Rio Olympics draw to a close and many athletes look to their next careers, we look back at 10 sports stars who became a success in movies and on TV
Alas, we have to wait another four years for the next Olympics – Tokyo 2020. How many familiar faces will we see again and how many athletes will turn their attention to media, TV or film? Here's 10 former sporting stars who did just that…
1 Bruce/Caitlin Jenner Bruce Jenner took gold in the men's decathlon at the Montreal Olympics in 1976. Three times married, with six children, Jenner embarked on a media career, appearing in the first US series of I'm a Celebrity Get Me Out of Here! (2003) plus a host of game shows.
In 2007, he starred with his third wife, Kris Kardashian, in the popular reality show Keeping Up with the Kardashians. Then in April 2015 Jenner came out as a transgender woman, publicly changing her name from Bruce to Caityln. Known as the most famous transgender woman in the world, she stars in the recently cancelled US TV series I am Cait, a reality show which focuses on her transition.
2 Eric Cantona (footballer) French footballer Cantona, has 45 caps for his national side and is probably best known for his long career at Manchester United from 1992-97. He won four league titles and two League and FA Cup Doubles. Cantona made his acting debut as a rugby player in the 1995 French film Le Bonheur est dans le pré.
After his retirement from football he played a courtier in Elizabeth (1998), alongside Cate Blanchett, appeared in Jack Says (2008) as a bar-stool philosopher and took the titular role in Ken Loach's Looking for Eric. His latest offering is the 2014 Danish western, The Salvation.
3 Jason Statham (diver) Brit actor Jason Statham started his early career in the British National Diving Team. He took part in the 1990 Commonwealth Games in Auckland, New Zealand, finishing eighth in the 1m springboard, 11th in the 3m springboard and 10th in the 10m platform.
He finished 12th in the 1992 World Championships and branched out into a career in modelling and sales. While working as a model, he met Guy Ritchie who cast him in his 1998 film Lock, Stock and Two Smoking Barrels. Snatch and Revolver followed, and the rest, as they say, is history…
Carl Lewis takes gold at the '91 World Champonships and in Bigger Stronger Faster
4 Carl Lewis American track and field star won 22 gold medals, nine of which were gold in the Olympics and 10 World Championship during his athletic career between 1979-1996. His move into acting began playing himself in film and TV shows such as Speed Zone and Perfect Strangers before branching out after retirement in Man vs Beast 2 (2004); The Last Adam (2006); Bigger Stronger Faster (2008) and Challenging Impossibility in 2011.
5 Burt Reynolds Reynolds was an award-winning college football player. He won a scholarship to Florida State University where he played as a halfback and was looking forward to a career in professional football with the Baltimore Colts. An injury followed by a car accident put paid to that ambition and his attentions turned to acting.
After numerous TV roles he shot to fame in the 1972 film Deliverance and became a leading man during the next decade in The Longest Yard, Smokey and the Bandit, Starting Over and Cannonball Run. He won an Oscar nomination for the 1997 film Boogie Nights.
6 Johnny Weissmuller Weissmuller was an Austro-Hungarian born American competitive swimmer. He won five Olympic golds in the 1924 and 1928 games; 52 US National Championships and set more than 50 world records in freestyle and backstroke. After retiring, his athletic build and height (plus his distinctive ape-man cry) made him the perfect choice for the role of Tarzan, which he played in 12 films.
7 Esther Williams Another teenage swimming sensation, dubbed the 'American Mermaid', Californian-born Esther won three national swimming championships and would have appeared at the 1940 Olympics had it not been cancelled because of World War II.
A talent scout spotted her for the 1942 movie Andy Hardy's Double Life. Later she was cast in 'aqua musicals', notably Bathing Beauty in 1944 and Million Dollar Mermaid (1952).
8 Arnold Schwarzenegger Austrian-born Arnold Schwarzenegger first gained fame as a bodybuilder, winning five Mr Universe titles and six Mr Olympia crowns during his career. In 1968 he emigrated to America with his sights set on a career in movies.
With his size and power he was perfect for the part of bodybuilder Joe Santo in Stay Hungry (1976), for which he won a Golden Globe. Arnie became a household name and leading light in hit 1980s action movies, including Conan the Barbarian and The Terminator franchises to name a few, before turning his attention to politics…
9 Vinny Jones Professional footballer Vinny played midfield for Wimbledon, Leeds, Sheffield United, QPR and Chelsea and captained his national side, Wales.
As part of the 'crazy gang' he won the 1988 FA Cup final with Wimbledon and following his retirement from football cashed in on his hardnut image with roles in films, including Guy Ritchie's Lock Stock and Two Smoking Barrels (1998) and Snatch (2000). He teamed up with Arnold Schwarznegger and Sylvester Stallone in 2013 film Escape Plan.
10 Harold Sakata Hawaii-born Japanese-American weightlifter, Harold Sakata won silver for the US at the 1948 Olympics in London. He was also a professional wrestler and went by the name of Tosh Togo in the 1950s-early 1960s.
At 5ft 10in and weighing 285lb he cut an imposing figure and caught the eye of Bond producers Harry Saltszman and Albert Broccoli for the role of Oddjob in the 1964 Bond film Goldfinger. His sharp, steel-brimmed bowler hat became a much-parodied trademark of the Bond movies. He went on to play in over 30 films and TV series.
Get the latest updates, reviews and unmissable series to watch and more!
TV Times Highlights Editor
As TV Times Highlights Editor I get to hear about all the latest TV shows coming soon. Here at TVT HQ we are in the privileged position of selecting the best programmes from across all the channels and streaming platforms. Our mission is to make it easier for our readers to decide what to watch - and give them lots of choice of genres - all the latest shows, plus some nostalgic choices we call hidden gems, too. My career began with a postgraduate degree in periodical journalism (ahem, yes old school!) in 1991 and I've worked in TV media since 2000.
Thank you for signing up to Whattowatch. You will receive a verification email shortly.
There was a problem. Please refresh the page and try again.