Blu-ray review | Royal Flash (1975) | Richard Lester's slapstick period drama gets a UK Blu-ray release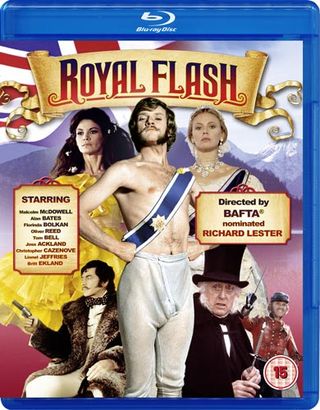 THE STORY After humiliating Otto von Bismark (Oliver Reed) in a boxing match and stealing his mistress, courtesan Lola Montez (Florinda Bolkan), decorated 19th-century soldier and famed scoundrel Captain Harry Flashman (Malcolm McDowell) is coerced into impersonating a European prince in a bid to stop him from interfering with Bismark's plans for a unified Germany. But when Flashman learns the scheming Bismark plans to double-cross him, the roguish captain plots his escape back to England.
THE LOWDOWN Originally the villain in the classic 1857 novel Tom Brown's School Days (opens in new tab), Flashman became the anti-hero in a dozen books by novelist George MacDonald Fraser (opens in new tab) throughout the 1970s. This 1975 period comedy takes its cue from the second novel, but is given a slapstick makeover from Richard Lester (opens in new tab). The A Hard Day's Night director's manic direction cuts through the overblown plot at breakneck speed, while star Malcolm McDowall seems to be channelling the same anarchic characters he played in Lindsay Anderson's If… and O Lucky Man and in Stanley Kubrick's A Clockwork Orange.
The roll call of British thespians popping up throughout the 112-minutes is pretty impressive, but its Olivier Reed who gives a scenery chewing performance as the dastardly Bismark. Lester had hoped to follow the success of his two Musketeer movies, made the year before, with another comic dip into baroque waters. But while Royal Flash did garner some good reviews, it didn't really catch the box-office alight.
THE DISC The Odeon Entertainment (opens in new tab) Region 2 Blu-ray release (opens in new tab) is the first-time Royal Flash has been released on disc in the UK (however a DVD (opens in new tab) was released in the US in 2007). The extras include a commentary with Malcolm McDowell and film historian Nick, Inside Royal Flash featurette, Meet Harry Flashman http://youtube.com/v/eLDBW7N02JU
Get the latest updates, reviews and unmissable series to watch and more!
Thank you for signing up to Whattowatch. You will receive a verification email shortly.
There was a problem. Please refresh the page and try again.