Blu-ray review | Spider Baby (1964) | Jack Hill's weird, wild horror comedy starring Lon Chaney Jr finally gets the release it deserves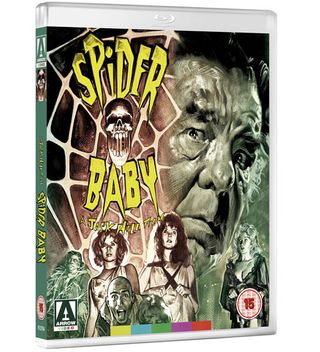 THE STORY Horror legend Lon Chaney Jr stars in this once lost 1960s black comedy as Bruno, a loyal chauffeur entrusted with the care of three orphan siblings, Elizabeth (Beverly Washburn), Virginia (Jill Banner) and Ralph (Sid Haig) – the last generation of the inbred Merrye family, who have inherited a disease that causes them to regress into murderous savages. When distant relatives Emily (The House on Haunted Hill's Carol Omhart) and Peter (Quinn Redeker) arrive with their lawyer to make a claim on the Merrye fortune, Bruno is forced to take drastic steps to protect the children.
THE LOWDOWN Like a demented take on TV's The Addams Family, this weird, wild monochrome cult classic from writer-director Jack Hill (who Quentin Tarantino calls 'the Howard Hawks of exploitation filmmaking') has a bit of a history behind it and certainly lives up to its alternate title 'the maddest story ever told'.
Filmed in just 12 days in 1964, Spider Baby was not released until 1968 due to a legal dispute, and for many years afterwards, the only way to see Hill's Californian gothic was on poor quality pirate VHS tapes. It wasn't until the director finally got his hands on the original negative – with the help of trash film historian Johnny Legend, Tarantino and Harvey Weinstein – that audiences would be able to see the film as it was meant to be.
Spider Baby maybe comical, but it also has some genuinely creepy moments, and that's down to the masterful cinematography, lighting and art direction. It also has real heart that shines through the performances. Lon Chaney Jr gives a melancholy turn (even crying real tears in one scene) as the empathic custodian who tries to keep the mad Merrye kids from going over to the dark side with his homespun philosophy: 'Just because something isn't good doesn't mean it's bad'. But the film's real stars are Jill Banner as the spider-loving Virginia and Sid Haig as the Harpo Marx-like Ralph. Banner, who was Marlon Brando's lover at the time, tragically died, aged 35, in a car crash in 1982. Haig, meanwhile, has become a cult hero in horror and exploitation circles.
Director Hill only made 19 films, but he certainly put a unique spin on the grindhouse and exploitation genre, and Spider Baby is his shining example of how a small movie can outlive some rather big ones. Dare you embrace the Spider again?
THE DISC The Arrow Video release contains a director's cut (on both Blu-ray and DVD), transferred and restored in HD from the original 35mm negative under the supervision of Jack Hill. It's also loaded with bonus material, including Hill's 1960 short The Host, starring Sid Haig. Other extras include audio commentary with Hill and Haig, a 2012 cast panel discussion, a retrospective with Joe Dante, a profile on composer Ronald Stein, and a visit to the Merrye House location in Highland Park, Los Angeles. Plus, there's an alternate opening sequence, extended scenes, original trailer, behind-the-scenes imagery, collector's booklet, and a reversible sleeve featuring the original 1968 artwork and a new design by Graham Humphreys.
WHATEVER HAPPENED TO LON CHANEY JR?
Spider Baby was one of the last films of Lon Chaney Jr, who was suffering with numerous health problems, including throat cancer, gout and cataracts, throughout the 1960s. The actor, who died of heart failure aged 67 on 12 July 1973, was a haunted man, both personally and professionally. Not only did he have the legacy of his famous father, Lon Chaney (the original Phantom of the Opera), stalking him throughout his life, he also had the ghosts of Lennie Small and Larry Talbot, the characters he played in 1939's Of Mice and Men and 1941's The Wolf Man, to contend with. Throughout his career, Chaney found himself typecast as either a simple-minded brute or sad derelict. As such, there is, in all of his films, a sense of pathos running through the characters he played. Chaney's final film before his death was the Z-grade monstrosity Dracula vs Frankenstein in which he does little more than grunt, but its in Spider Baby http://youtube.com/v/yFMvPRvxV1Y
Get the latest updates, reviews and unmissable series to watch and more!
Thank you for signing up to Whattowatch. You will receive a verification email shortly.
There was a problem. Please refresh the page and try again.