Blu-ray review | Squirm (1976) | Jeff Lieberman's cult nature-strikes-back horror now in HD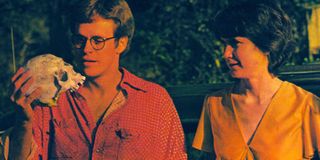 THE STORY When a violent storm hits the small fishing town of Fly Creek, Georgia toppling an electricity pylon, millions of volts surge into the mud causing the local worms to transform into flesh eaters. With the power lines down, the townspeople and visiting city boy Mick (Don Scardino) soon face a fight for survival as a tidal wave of worms wriggle into town consuming everything in their path.
THE LOWDOWN Described as 'The Birds with worms', Squirm was the debut feature of Jeff Lieberman and is regarded as one of the best revenge-of-nature films of the 1970s. Some 250,000 real worms plus another 250,000 fake ones were used in the film and they are all up there on the screen to see, as whole rooms are filled with what looks like thick spaghetti. It's a disturbing image that stays with you. As do the sounds of the worms (in fact, pigs being slaughtered) and the grisly make-up effects, which were designed by future Oscar-winner Rick Baker (An American Werewolf in London).
THE RELEASE The Arrow Video dual format release includes a HD presentation on Blu-ray (SD on DVD) which has been restored uncut with the approval of the director, who also supplies a witty, entertaining audio commentary. The other special features include a Q&A session with Lieberman and Don Scardino from 2012, a critique of the film by Kim Newman, unrestored trailer, interchangeable artwork by Gary Pullin, and collector's booklet featuring new writing by Lee Gambin, author of Massacred by Mother Nature, an interview with Lieberman, archive stills and posters.
Get the latest updates, reviews and unmissable series to watch and more!
Thank you for signing up to Whattowatch. You will receive a verification email shortly.
There was a problem. Please refresh the page and try again.