Blu-ray review | The Phantom of the Opera (1929) | The celebrated silent horror classic now in high definition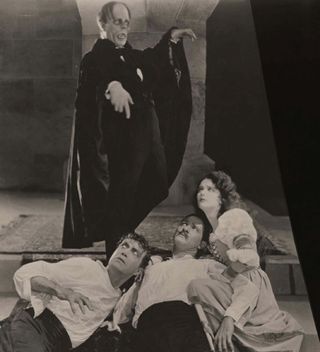 In the first-ever screen adaptation of Gaston Leroux's 1910 novel, Lon Chaney, gives his most famous performance as the deformed Erik, a former Devil's Island escapee who commits murder and mayhem in a bid to turn the woman (Mary Philbin) he is infatuated with, into a star.
THE LOWDOWN The 1925 film was a hugely lavish production, with a scaled-down replica of the Paris Opera house being built on a dedicated soundstage (that's still used today). Despite numerous production problems, the film was a box-office hit that launched the Hollywood gothic style of the 1930s, beginning with Tod Browning's Dracula and James Whale's Frankenstein, while Chaney's skull-like make-up was so horrific it made some cinema patrons scream and faint.
With the arrival of sound, Phantom was re-issued, but only fragments now survive. Original prints of the film were also fully tinted, with some sequences in two-colour Technicolor, and a rooftop scene using a special process that enabled the Phantom's cloak to show red against the blue night sky. This Photoplay restoration re-instates all these effects, and is accompanied by Carl Davis' celebrated 1996 score which draws heavily on Charles Gounod's Faust - the opera that is performed in the film.
http://youtube.com/v/HYvbaILyc2s
THE BFI RELEASE The 3-disc dual format edition (available in the UK from 2 December 2013) includes the following: • A newly-restored 2k scanned presentation of the tinted and toned 1929 version comprising elements from three sources (the 35mm George Eastman House master positive, a 35mm colour dupe negative of the masked ball made in 1996, and 35mm dupe negative sections made in 1996 from an original 16mm print), new opening and closing titles, and a 5.1 mix of Carl Davis's 1996 Channel 4 Silents Series score. • The 103min 1925 version newly transferred in high definition from the Photoplay Productions 16mm print and digitally remastered, with a newly commissioned piano accompaniment by Ed Bussey. • Original 1925 trailer (featuring Bussey's music) and 1929 sound re-issue trailer (featuring recreated soundtrack). • An edited version of Reel 5 from the lost 1929 sound re-issue (12 mins). • The 'man with a lantern' footage believed to have been shot for non-English speaking territories. • Lon Chaney: A Thousand Faces documentary (2000, 86 mins, DVD only). • Booklet featuring new essays, including extensive notes on the film's restoration history. • Channel 4 Silents restoration souvenir programme on PDF.
If you want to know more about the enduring legacy of The Phantom of the Opera, check out the documentary Unmasking the Masterpiece CLICK HERE.
Get the latest updates, reviews and unmissable series to watch and more!
Thank you for signing up to Whattowatch. You will receive a verification email shortly.
There was a problem. Please refresh the page and try again.