Boomers star Stephanie Beacham: 'I'm not a grandma, I'm a Glamma!'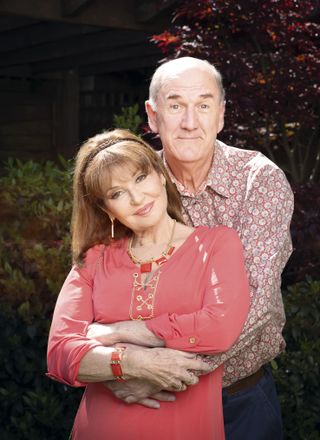 (Image credit: BBC/Hattrick/Jack Barnes)
Boomers (BBC1, Friday) star Stephanie Beacham tells TV Times magazine that she's too busy to be bothered by ageing…
As Boomers' Maureen, the other half to Russ Abbot's retired plumber John, you play the most glamorous character...
"It's very Essex. There's a lot of pale lipstick and eye liner, and white tips to the nails. In real life the only things I don't leave home without are nail varnish, lipstick and scent. I don't bother with make-up much and I am quite scruffy."
What is so great about Boomers?
"It's about people of a pensionable age, and we are the stars of the show. It's like Friends – but with a few years added!"
Maureen looks after her mother Joan, who is played by comedy veteran June Whitfield. But off screen, you're a proud grandmother yourself!
"I'm not a grandma, I'm a GlamMa. We get to be so much better grandparents than parents, don't we? You get another go, but you don't have to do things like taking them to the dentist. You have a slight distance from them, but that makes the relationship even closer."
What are you most frequently recognised for?
"People say to me: "You're off Bad Girls, aintcha?" Or "We just loved Dynasty – especially the clothes." But what touches me the most is when people tell me: "I saw you in a play the other night." That's more personal."
You recently survived a second skin cancer scare…
"I just want to live. I am keen to be more in the moment. Rather than running around, I like to sit down and have a conversation. Although in terms of work, I am getting greedy as I get older – I'm like a terrible magpie, I want this and I want that, I grab things. Age isn't a barrier providing you aren't having difficulty with scripts. I mean, just look at June Whitfield."
What else do you enjoy doing?
"I enjoy gardening and working on the houses. I have a lovely partner [Dr Bernie Greenwood] who helps me. He is in Spain and we Skype for an hour every night, with me yawning as he shows me the plans! I still have a lot of wanderlust though. I've lived in Rome and I love Italy, and I'd also like to see more of India."
What do you make of the fact you've often played nasty characters?
"I think I was about 32 when a casting director said: "Have you thought about playing the nasty, evil person?" And I said: "No, but I will." Then I realised the nasty people run the story, and that's much more fun to do and have everybody else reacting to you. That's why I've never been frightened of any of those roles, and I have been very lucky."
So playing bubbly, fun-loving Maureen must be a nice change of pace…
"I've played my share of hard-edged women in my career, but I feel like the part of Maureen is like coming home. She's not like anyone I've ever played before. You know those women who are always laughing on trains? And you always resent them, but at the same time you want to know what they are laughing about? Maureen is in one of those gangs. I am loving playing her, and I am loving being married to Russ."
Get the What to Watch Newsletter
The latest updates, reviews and unmissable series to watch and more!