Bradley Walsh: 'It's fantastic that Cash Trapped comes on when The Chase is off for a break'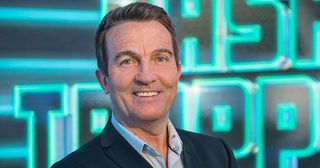 The host of The Chase, Bradley Walsh, reveals the appeal of his other ITV quiz show, Cash Trapped
Three years before Bradley Walsh revolutionised tea times with The Chase, the popular comedian was already dreaming up ideas for quiz show glory.
Sitting in his Coronation Street dressing room (back when he was playing Mike Baldwin's son, Danny), Bradley spent his down time writing TV formats and designing a quiz where the contestants would return day after day as the jackpot increased.
It took a decade to whip that idea into shape, until it eventually reached our screens as Cash Trapped (weekdays, 5pm, ITV) he series that sees contestants try to sabotage each other in an attempt to take home some serious dosh.
Of course The Chase is a tough act to follow, but rest assured – Bradley, 57 isn't leaving, he just hopes Cash Trapped can fill in the gaps when it's not on air. To celebrate the second series, he tells TV Times the secret to quiz show success…
Cash Trapped was your idea, Bradley – how delighted were you to finally see it on screen last year, and have you made any changes for the second series? "I did enjoy it, it was interesting because it took a while to get it on screen. I felt the first series worked really, really well in the time slot. We've made some subtle changes to the second series, but nothing drastic, purely little tweaks that don't make a difference in the long run. Shows need to be quick nowadays, especially on commercial television – The Chase is so speedy, we had to keep pace with that type of format. So we've made the first round much slicker and that quickens the whole show up."
What makes Cash Trapped a great quiz format? "I like the idea that contestants can be on there for two or three months, so viewers at home can get to know them and really get a feel for their personalities – that's something no other show has. Plus it's just great fun to play."
How tough is it to make sure the questions are just the right level of difficulty? "The questions aren't my department, but the team make sure we have a mixture of easy, medium and very hard questions. You have to be careful of the construction of the question, because if there are some really good quizzers on the show they'll anticipate the questions – so if you say 'Arsene Wenger' they know the answer is either going to be France or Arsenal! We have an exceptional team who think about that and make sure questions are written into the way I would speak. It's a real art."
There was a bit of a backlash on social media last year when viewers tuned in for The Chase and found you hosting Cash Trapped instead. What was your reaction to that? "The Chase is a brilliant format with great characters – I'm the ringmaster and the Chasers are very clever pantomime villains. It's a sensational, perfect storm of an idea. But I have to say Cash Trapped is a show that will complement it. We just can't do 250 episodes of The Chase, it's impossible, you don't want too much of a good thing. So to have Cash Trapped on when The Chase is off for a break is fantastic."
Many famous faces have tried to host quizzes, but few have had your success. Is it a job that particularly suits you? "Over the years I've watched and worked with Bob Monkhouse and Bruce Forysth, both of whom are fantastic. Bruce is sensational with contestants and Bob was so warm with everyone, he was one of the nicest men that ever walked the earth. I definitely learned from them and saw how to do the job. Also, honestly I have a genuine feeling for the man on the street.
"I like working with the public and finding out about them. In the early days of my stand-up career I spent all my time going round the country on my own, so I'm interested in talking to contestants about where they're from. Even before that, I started out as a blue coat at Pontins, where my job was to make everyone feel comfortable and look after them – I've always loved doing that."
How would you sum up the job of the quiz show host – are you there to entertain the audience or look out for the contestants? "There are times when my job is to ramp up the tension, usually at the end of the show, but also in the same vein, you've got to make the contestants feel comfortable in the studio environment. Plus I have to make sure we have fun, otherwise it just gets tedious and all of a sudden you're on University Challenge. That's a great show, but it's not really essential viewing, because it's a very highbrow quiz.
"Some of the answers the contestants come out with on my shows are fantastic, and if you can josh them along without ridiculing them then you've cracked it. I find it really hard to take when I see other hosts ridiculing their guests – that's not really my thing."
Why do you think we love quiz shows so much? "We just adore them, don't we? It feels like quiz shows are part of the British psyche and I think people like to play along at home. My nan, Marion is no longer with us, but my she used to watch them constantly. She'd start at 3pm and channel hop from one quiz to another, she loved them all. The ratings for The Chase are extraordinary – we're ending up with more than three million viewers watching a quiz show at 5pm, but no one should be in by then! I get letters from dads who come in from work and watch it on catch-up because the kids have told them about the episode."
Both The Chase and Pointless launched in 2009 and have gained loyal audiences and prime-time spin-offs. It seems like a healthy rivalry... "Absolutely it's extraordinary that both are so successful, they're very different shows. If you look at Pointless, it's perfect for the BBC audience because in total they will ask about 20 questions. We ask 120 per show, even though we're on air for less time. It's amazing, the British public really has an appetite for these shows."
Get the latest updates, reviews and unmissable series to watch and more!
Thank you for signing up to Whattowatch. You will receive a verification email shortly.
There was a problem. Please refresh the page and try again.