Fang-tastic! Don't miss the best of Buffy The Vampire Slayer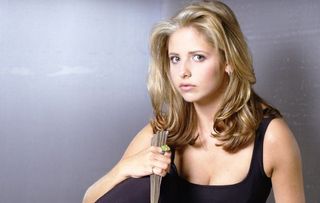 To celebrate the 20th anniversary of Buffy The Vampire Slayer, SyFy are showing the best-ever episodes as voted for by fans.
It is now 20 years since the first episode of Buffy The Vampire Slayer was shown (well almost, the hit action-adventure series wasn't shown in the UK until 1998 on BBC 2).
The series, which starred Sarah Michelle Gellar as vampire slayer Buffy Summers, ran for seven seasons and 144 episodes. And although there are no current plans to reboot the series, the original cast have been sharing their memories of the series which Rolling Stone magazine has named as one of the 100 Greatest Shows Of All Time!
Sarah Michelle Gellar wrote on Instagram: "While we knew the potential, I don't think any of us saw the lasting impact our show would have. As an actor, you wish for that one role where you can leave your mark and forever be remembered, with Buffy I got so much more. She's a feminist challenge to gender hierarchy. Buffy may have been the Chosen One, but I was the lucky one."
While the cast have since gone their separate ways, Buffy's adventures have continued in an on-going comic-book series, with some of the stories written by original executive producer Joss Whedon.
Since the series still has a die-hard following, SyFy are celebrating the 20th anniversary with a Best Of Buffy weekend next Saturday 1st and Sunday 2nd April, when they will countdown the Top 20 best Buffy episodes as voted for by viewers. From Buffy's doomed romance with hunky Angel to her legendary showdowns with rival slayer Faith to the musical episode where everybody in Sunnydale suddenly started singing, get watching to see if your favourite moments are shown!
Don't miss Best Of Buffy weekend from 11am on 1st and 2nd April only on SyFy.
Get the latest updates, reviews and unmissable series to watch and more!
Thank you for signing up to Whattowatch. You will receive a verification email shortly.
There was a problem. Please refresh the page and try again.