Call the Midwife star Linda Bassett: 'Don't get excited about romance for Phyllis... yet!'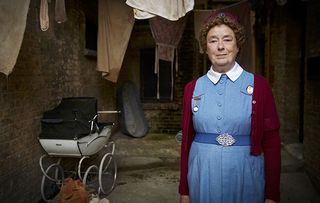 (Image credit: BBC/Neal Street productions)
Call the Midwife actress Linda Bassett reveals why there may be a long wait for love for Nurse Crane
No-nonsense Nurse Phyllis Crane, played by Linda Bassett, forged a confrontational but sparky relationship with new policeman Sergeant Woolf (Trevor Cooper) in the Call the Midwife Christmas special, but as the series returns, Linda says that we shouldn't hold out hope for love to blossom between them just yet.
Here Linda Bassett tells TV Times about the return of Call the Midwife…
TV Times: Could Phyllis get closer to Sergeant Woolf?
Linda Bassett: "Well Phyllis does encounter him again. He can be twinkly but she's not twinkling back so don't get too excited about romance! I think it's a long slow burn because it'd take a lot for Phyllis to yield; she's rigid in her ways."
TVT: What else is in store this series?
LB: "I don't think Heidi Thomas writes an episode where you don't end up crying! The first story about a lady dying is played so beautifully. Later, we also look at whether fathers should be at births and there's a lady with a fear of giving birth too."
TVT: What does Phyllis make of the new nurse Lucille Anderson (Leonie Elliott)?
LB: "Now that Phyllis isn't sharing with Barbara, she has made cushions to turn Barbara's bed into a couch but then Lucille turns up to share! They get on well though and Lucille was top of her year in training so she's super-duper and very thorough."
TVT: Are you squeamish about any of the medical procedures on Call the Midwife?
LB: "No, even when I have an injection or give blood in real life, I like seeing the blood! I don't like the pain of the needle going in though but I am fascinated by seeing the bag filling up, it feels like you have won a prize and you get tea and a biscuit!"
TVT: Do you still love meeting the babies on set?
LB: "Yes, everything just becomes focused on the baby, it all changes, nothing else matters and Terri Coates our real midwife takes care of them so well and she shows us just by example how to be midwives."
Call the Midwife returns on Sunday 21st January at 8pm on BBC1
Get the latest updates, reviews and unmissable series to watch and more!
Thank you for signing up to Whattowatch. You will receive a verification email shortly.
There was a problem. Please refresh the page and try again.