The cast of Dad's Army: The Lost Episodes on 'walking in the footsteps of legends'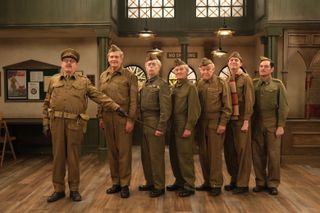 Kevin McNally and his co-stars on their pride at bringing missing episodes of Dad's Army back to life
Gold's Dad's Army: The Lost Episodes sees a new cast – led by Kevin McNally as Captain Mainwaring and Robert Bathurst as Sergeant Wilson – use original scripts to recreate three 1969 instalments of David Croft and Jimmy Perry's much-loved sitcom, after the recordings vanished from the archive.
Here, the cast of Dad's Army: The Lost Episodes talk about stepping into the well-worn boots of TV's most famous platoon…
Kevin McNally is Captain Mainwaring previously played in Dad's Army by Arthur Lowe
"There were nerves. But we're not treading on the A-team's performances, we're understudies!" says Unforgotten star Kevin, 63. "I love playing pompous Mainwaring. And I've tried to slip in a, 'You stupid boy!' I shaved my head and once you get the moustache, glasses and padding on, it's there. Then they brought me a suit and the last person who'd hired it was Arthur Lowe for the Dad's Army movie in 1971!"
MORE: Birth of SAS to be told in new BBC1 drama
Robert Bathurst is Sergeant Wilson, previously played by John Le Mesurier
"I played John Le Mesurier in [2011 BBC4] drama Hattie about his marriage to Hattie Jacques but for this, I had to get his mannerisms as Wilson. I was pleased there's a, 'Do you think that's wise, sir?!' in the script!" says Cold Feet star Robert, 62. "I didn't think remaking existing shows was a good idea. But when it was explained about the lost episodes I was excited. There's a huge responsibility but it's glorious."
Kevin Eldon is Lance Corporal Jones, previously played by Clive Dunn
"The original can't be bettered," says Kevin, 59, whose credits include I'm Alan Partridge . 'When Dad's Army came out, I was 10 and I'd watch with my granddad, who'd been at Dunkirk, and he'd laugh until he cried. As a kid I didn't like Jones, but having studied now what Clive Dunn did, there's subtlety and physical precision. I can't make my face do Clive's shapes though – I've got faceache trying!"
David Hayman is Private Frazer, previously played by John Laurie
"I'm not known for my sitcoms!" laughs David, 71, who has starred in Trial & Retribution and Hatton Garden. "I'm allowed to be over the top for the first time in years! I love one episode we do, A Stripe for Frazer, where Mainwaring has to promote someone and foolishly chooses Frazer, who charges the others with treason. We're walking in the footsteps of legends."
Timothy West is Private Godfrey, previously played by Arnold Ridley
"My first feeling when I read the script was, 'Godfrey doesn't say much!' But then I remembered I'd seen a lot of the old series and he's there all the time. It is about them as a team," says Timothy, 84, most recently seen in Gentleman Jack. "I just love that Godfrey tries to stay well away from what is going on and that's something I sympathise with!"
Mathew Horne is Private Walker, previously played by James Beck
"Dad's Army is so well-loved that it's an honour to be part of," says Gavin & Stacey star Mathew, 40. "I love that Walker's cheeky. In one of our episodes, The Loneliness of the Long Distance Walker, he gets called up and the others try to keep him in the Home Guard because he always sorts them out with booze and fags!"
Tom Rosenthal is Private Pike, previously played by Ian Lavender
"I was a big fan of Dad's Army and watched with my grandparents and my dad [sports commentator Jim Rosenthal] called me, 'Stupid boy Pike!'," says Plebs actor Tom, 31. "I don't have Pike's blue and red Aston Villa scarf from when the series went to colour though. This series was still black and white and my scarf's beige and red. It's right if you check the original series!"
Dad's Army: The Lost Episodes airs on Gold from Sunday 25 to Tuesday 27 August at 8pm
Get the latest updates, reviews and unmissable series to watch and more!
Thank you for signing up to Whattowatch. You will receive a verification email shortly.
There was a problem. Please refresh the page and try again.