Back from the wilderness, but Charlie Dimmock reveals: 'I'm going to get hate mail about Garden Rescue!'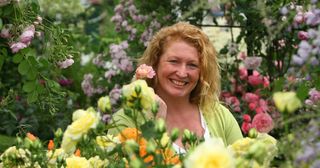 (Image credit: PA Archive/Press Association Ima)
Gardening guru Charlie Dimmock reveals she's worried her earthy teasing on new BBC programme Garden Rescue is going to make her unpopular…
Gardening guru Charlie Dimmock reveals she's worried her earthy teasing on new BBC programme Garden Rescue is going to make her unpopular…
You're back on the box! Tell us about Garden Rescue… "I've teamed up with award-winning garden designers, David and Harry Rich to help people with different garden problems. They give us a brief and a budget of their own money, and then the boys and I come up with a design and pitch it to them. The owners chose which one they like the best and we all build it together."
How has it been working with Chelsea Gold Medal Winners, David, 25, and Harry, 28? "I think I'm going to get a lot of hate mail because they're very sweet and I tend to tease them! They do make me laugh when they say 'Oh, I've got a blister' or 'my shoes are muddy!' David's started to give me grief back, but Harry's too polite!
"We get on very well even though we've very different tastes – I'm traditional and they're beautifully modern and contemporary."
What are the biggest challenges of making this 20-part series? "The budgets can be anything from £1000 to £8000 and within that the client might want a new shed, fence replacing or a trampoline! The weather's been a joy, too – snow and pouring rain!"
Can you tell us about some of the gardens and people you meet? "At one house, they had builders in for two years because their garden land-slipped away and their house was about to plummet! Now their garden's trashed and they've fallen out of love with it.
"Another involves a couple who scrimped and saved to buy their house. They want to get married in the garden to save money, but it's a disaster!
"The most heartbreaking one is about a retired couple who stopped using their garden after the tragedy of losing their grown-up son because it had too many memories. It's very emotional."
Ground Force made you a star in 1997. What are your favourite memories? "I've hundreds of funny memories. I remember we laughed so much making Garden Force that our cheeks would hurt. We used to take the mickey out of each other hugely, but it was because we all got on with each other. I'm still in touch with Alan Titchmarsh and Tommy Walsh."
Was it a difficult time, too? You were objectified a bit… "It was silly, wasn't it? Just one of those things! I was just a gardener. Ground Force was an entertainment programme that gave hints and tips, but didn't frighten people with the Latin names of plants!"
Would you like to do more Garden Rescue with the Rich Brothers? "If I don't get hate mail about picking on the boys! Yes I would, it's been really enjoyable and interesting. It's a very real show - you have to do what the client wants because it's their money.
"I also love doing Panto - especially Jack and the Beanstalk because it just lends itself to lots of bad gardening jokes like 'learning things by trowel and error!'"
Charlie Dimmock is on Garden Rescue on BBC1, Monday to Friday daytime
Get the latest updates, reviews and unmissable series to watch and more!
Thank you for signing up to Whattowatch. You will receive a verification email shortly.
There was a problem. Please refresh the page and try again.