Charlotte Riley and Ben Chaplin reveal all about big new BBC1 drama Press - penned by the creator of Doctor Foster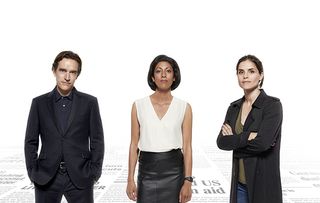 (Image credit: BBC/Lookout Point)
Hold the front page! Ben Chaplin and Charlotte Riley star in a new drama set in the cut-throat world of newspapers
Hot off the press from Doctor Foster writer Mike Bartlett comes a new drama series about the lives of journalists working for two fictional newspapers – one a broadsheet, the other a tabloid.
At upmarket The Herald, deputy news editor Holly Evans (Peaky Blinders' Charlotte Riley) immerses herself in her work to the exclusion of virtually everything else. Meanwhile, across the street at red-top The Post, editor Duncan Allen (Apple Tree Yard's Ben Chaplin) is hugely successful at delivering sensational stories and keeping his CEO, played by David Suchet, happy.
http://www.youtube.com/watch?v=K108II6gKEw
However his home life is just as colourful as the sensational stories he likes splash across the front cover in the name of "entertainment".
In what felt a bit like a busman's holiday, TV Times caught up with the two stars on the very realistic newsroom sets for a quick conference about what's in store in Press…
What are your characters Holly and Duncan like?
Ben Chaplin: "Duncan is the high-flying editor of the best-selling newspaper in the UK which, in our story, is called The Post. He's a little bit amoral, very persistent, an irresistible force. Even when he's beaten he doesn't really mind, he puts a positive spin on it."
Charlotte Riley: "Holly is deputy news editor of The Herald. She's incredibly passionate about what she does, and it's pretty much her whole world. She's from a very working-class background, has sacrificed a huge amount to get where she is, and is totally dedicated to journalism."
What can you tell us about their home lives?
Charlotte: "Holly's career has come at the expense of her personal life, and she's pretty lonely. She has colleagues who she gets on well with, but the loneliness she experiences is outside the office. She lives to work, and being in the office brings her to life – it's her raison d'etre. It's quite sad that, as soon as she walks through those office doors, she breathes again."
Ben "Duncan is married, but not very happily – and that's all down to his immaturity, rather than being anything to do with his partner."
Can you describe the two newspapers for us?
Charlotte: "The Herald is probably quite reminiscent of The Independent and it's run by a trust, like The Guardian. You see the pressures that are on it to stay relevant and ahead of the times."
Ben: "The papers are basically The Sun and The Guardian. I suppose aesthetically I wanted to be the editor of The Herald. But it was definitely a better laugh to be editor of The Post – I could tell from the script that it was a bit boring over at The Herald!"
What newspapers do you read?
Charlotte: "I grew up reading The Sun and The Mirror at my grandparents' house, and my mum and dad read The Independent and things like that. So I grew up with a pretty broad spectrum."
Ben: "I'll have a look at a tabloid in a café, but I would never buy a tabloid unless it was the only paper in the shop. I read The Guardian, and there's something about a paper you've read all your life – it becomes a friend, and you're blind to its flaws. Even the bits that irritate you about it comfort you, because they're familiar!"
Have you had any bad experiences with the press?
Ben: "I don't like critics. They just annoy me – why is their opinion so good, what do they know about it?"
Has working on this series changed how you view journalists?
Charlotte: "I was shocked by the hours some of them work – they are just insane! Also it makes me a little bit nauseous thinking about having to produce that amount of content every day. How do you find that constant curiosity?
Ben: "I think it's a subject that I already knew quite a bit about in terms of meeting journalists, and actually knowing a newspaper editor. However if I were the editor of a tabloid newspaper I wouldn't last five minutes! I couldn't talk to somebody who was at a low point in their ife, and tell myself it was in the public interest to write about it."
Press starts tonight on BBC1 at 9pm.
Get the latest updates, reviews and unmissable series to watch and more!
Thank you for signing up to Whattowatch. You will receive a verification email shortly.
There was a problem. Please refresh the page and try again.