Autumnwatch star Chris Packham imagines he's having a chat in the pub!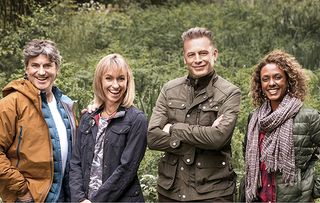 (Image credit: BBC/Glenn Dearing)
As Autumwatch returns, Chris Packham has revealed how he makes sure it's always entertaining
With the nights drawing in and the clocks about to go back, it's that time of year when animal-lovers settle down in front of the telly for Autumnwatch's seasonal snapshot of British wildlife. TV & Satellite Week caught up with Chris Packham, who co-presents the live shows from Gloucestershire's Sherborne Park Estate with Michaela Strachan and Martin Hughes-Games, for a sneak preview…
Chris Packham on why he imagines he's in the pub as Autumnwatch returns tonight...
TV & Satellite Week: Will you be revisiting some of the animals we saw in Springwatch?
Chris Packham: "We had our barn owls, kestrels kites and buzzards, and they were all resident so they will be there for Autumnwatch. In Springwatch, we had cameras set up in the horseshoe bats' maternity roost. Now Martin is going back because they are shifting from that roost into their winter roost. He's going to be climbing about looking for bats in a very cramped, claustrophobic, damp mine!"
TVSW: How can people at home be more wildlife-friendly this autumn?
CP: "It's a time where animals are stocking up, so order some bird feeders and set them close to the window, so you've got a great view of the animals. Also, save your table scraps, and leave them out for mammals that might visit – foxes, badgers and hedgehogs. But don't put them too close to the house, because you don't want them associating humans with food."
TVSW: What sort of wildlife do you have where you live?
CP: "I've got greenfinches clearing me out of birdseed at the moment, and I get large numbers of marsh finches where I am in the New Forest, which is quite unusual. I feed the foxes, but sadly I don't have any badgers near my home. I've also got large numbers of rats – they come because of the bird food."
TVSW: What's it like spending so much of your time outdoors?
CP: "From my point of view, one of the greatest joys is having my little patch where I walk with my dog. I rent my house, but my home is the woods where we walk – I feel more comfortable in the woods than in the house!"
TVSW: There's always good banter between the presenters on the programme – is that important?
CP: "My mental approach is that I'm about to go into a pub where there are loads of people I don't know, and have a conversation with them. It's about sharing anecdotes and making sure it is entertaining – not an hour-long lecture!"
TVSW: Do you socialise together off camera?
CP: "Over the summer Martin and I went to an event at the Tank Museum. We stood there and listened to this Tiger tank's enormous roaring engine. We get on really well."
TVSW: Are you ever jealous of wildlife presenters filming in exotic locations?
CP: "No. I like UK wildlife, and home is where the heart is. It's easy to swan off somewhere and just rely on the exotic, but I like the task of having to constantly reinvent British wildlife. While some species on this year's Autumnwatch will be new to our audience, when it comes to talking about rutting fallow deer, foxes and badgers, we've got to come up with a new way of showing it or a new story about it – and that's a good challenge."
TVSW: Do people ask you about wildlife when you are out and about?
CP: "The public are invariably friendly and, as long as they're sober and don't touch me, it's fine! Meeting them can be quite productive in the sense that I learn things I didn't know. For instance, a lady at my local train station told me about some peregrine falcons that were nesting in Southampton, close to where I live."
Autumnwatch returns tonight on BBC2 at 8.00pm.
Ian writes about TV and film for TV Times, What's on TV and TV & Satellite Week magazines. He co-hosts the weekly TV streaming podcast, Bingewatch.
Get the latest updates, reviews and unmissable series to watch and more!
Thank you for signing up to Whattowatch. You will receive a verification email shortly.
There was a problem. Please refresh the page and try again.