Cleaning Up star Rosie Cavaliero: 'Frances is not all she seems!'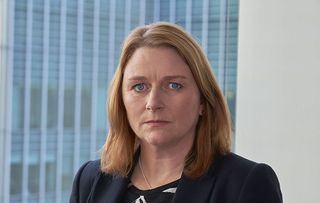 Following the discovery of the listening device, head of compliance Frances Howard is on the warpath in next week's Cleaning Up. Rosie Cavaliero reveals all
Rosie Cavaliero reveals there's more to her Cleaning Up character than meets the eye...
What can you tell us about Frances?
"Frances works in the offices of the company that Sam (Sheridan Smith) is a cleaner for as head of compliance, so it her job to try and keep everything above board. Frances is not the warmest person. She's quite private, gets on with the job, has a sense of her own power… and is probably a bit of a snob actually!"
Following the discovery of the listening device in trader Blake's office, an investigation is launched and Sam (Sheridan Smith) and her cleaning colleagues are summoned to a meeting about the security breach…
"When there's a breach of security, Frances has to go in, in her role as compliance person, and sort it out and find out what's happened. That when she comes into contact with Sam."
Does she want the cleaners to spy on the staff?
"No, she doesn't ask them to spy. It's more that these cleaners are in the offices late at night, so Frances wants anyone who may have seen or heard anything relating to what's been found to come forward."
Does she suspect Sam of being the person who planted the listening device?
"No. The cleaners are practically invisible, so Frances isn't suspicious of Sam at all. Sam's obviously playing dumb and, as far as Frances is concerned, Sam's just a cleaner."
With no one talking, Frances decides to do some digging herself, doesn't she?
"Yes. Frances starts looking through CCTV to find out what might have happened. However, let's just say, Frances is not all she seems."
Sounds intriguing…
"Frances would like to be earning loads of money and stuff but her salary as head of compliance is quite modest. So there's definitely an element of Frances wanting a bit more than what she's got. Frances is in a male world and she's working hard to stay in it. She's quite ruthless."
What's your view of this 'insider-trading' world?
"You mean, the whole world of broking and stuff? I still find it quite confusing to be honest. When I was reading about compliance, I thought oh my god, the whole job and what it entails, it's so dense and so complicated. So I was mainly looking at that side of it. But the actual side of the financial world… we've all seen what happened during the banking crisis. They messed up big time, didn't they? And no one seems to have taken the wrap for it."
What was it like working with Sheridan?
"I first worked with Sheridan when she was 22 on a sitcom with Paul O'Grady called Eyes Down, set in a bingo hall. We're both terrible gigglers and we did get a bit giggly sometimes on set for Cleaning Up. We just set each other off!"
Cleaning Up continues on Wednesdays at 9pm on ITV.
Get the latest updates, reviews and unmissable series to watch and more!
Thank you for signing up to Whattowatch. You will receive a verification email shortly.
There was a problem. Please refresh the page and try again.