Crimson Peak | Film review - Guillermo del Toro's deliciously ripe Gothic horror tale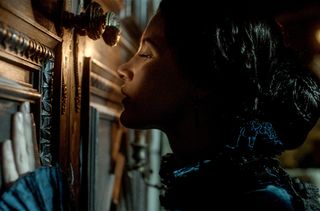 Love makes monsters of us all. 
Mia Wasikowska's vulnerable turn-of the-20th-century American heiress falls into the clutches of a fortune-hunting English baronet (Tom Hiddleston) and his scarily possessive, predatory sister (Jessica Chastain) in Crimson Peak, a deliciously ripe slice of Gothic melodrama from fantasy maestro Guillermo del Toro.
There are ghosts and gore in store, but viewers envisaging full-blooded horror will need to adjust their expectations. When Wasikowska's Edith Cushing (note the iconic surname) travels with the Sharpes (another pointed name) from ultra-modern Buffalo, New York, to their crumbling ancestral pile in England's Lake District, the dark and twisted romance that unfolds contains more psychological chills than jump-in-the-dark scares.
Del Toro's leads are perfect. Wasikowska, no stranger to Gothic romance following her role in Jane Eyre, treads a delicate balance between susceptible victim and gutsy heroine. Chastain, playing against type, is compellingly sinister. And Hiddleston manages to evoke sympathy for his scheming villain.
But the movie's real star is the Sharpes' decaying mansion. A triumph of set design, this House of Usher-like edifice stands on a mound of red clay (hence the title) and seems to breathe and bleed, a chilling living presence in its own right.
Director 15. Runtime 114 mins. Director Guillermo del Toro
Crimson Peak is available on Digital HD, Blu-ray & DVD from Universal Pictures (UK).
http://www.youtube.com/watch?v=oquZifON8Eg
Get the latest updates, reviews and unmissable series to watch and more!
Thank you for signing up to Whattowatch. You will receive a verification email shortly.
There was a problem. Please refresh the page and try again.