David Tennant on his surprising new comedy... 'I was so moved when I first read it'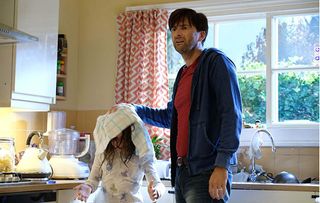 (Image credit: BBC/Merman Productions/Kevin Bak)
The former Doctor plays Dad to a learning disabled child in BBC4's There She Goes
David Tennant is joining forces with W1A co-star Jessica Hynes for a brand new comedy, based on the experiences of Extras star Shaun Pye. Shaun, who played smug Greg in the Ricky Gervais sitcom is now dad to a learning disabled daughter, who has a rare chromosomal disorder doctors are still trying to diagnose.
David plays Shaun, while Jessica Hynes plays his wife. The five-part series tells a very honest, personal story of a family coming to terms with having a child, Rosie, who requires so much more attention, love and patience than they were expecting.
Here, David Tennant, 47 and Jessica Hynes, 45, tell us more about There She Goes and why any parent will be able to relate to it...
What made you want to be part of this series?
David Tennant: "I was so moved by it when I first read it, it was unlike anything I'd ever seen. It seemed so honest and candid, with such a raw perspective on this particular life. I knew Shaun a bit but I had no idea that this was his life and his voice is so strong in it. It's a story that needs to be told."
Jessica Hynes: "Parenthood changes you and although this story is about a very specific experience, some of the emotions were just so relatable to me, I felt that I understood how parenting had changed them profoundly as it did me.
"There's something amazing about having your spirit broken so totally by children! As parents we all feel like we're failing and we look at other people thinking, 'Oh they're so happy and brilliant,' but actually most people find it difficult. There is a conspiracy of silence amongst mums but there is another side to it, and this series definitely goes there."
After a lot of consideration, it was decided it would be unfair to ask a learning disabled actress to play Rosie. What was it like working with young actress Miley Locke?
David: "She's extraordinary, maybe it's because she's young, and so she lacks a certain self-consciousness that an older actor might have. She could turn on a dime – she talked a lot about her puppy right up to when they called action and then suddenly she disappeared into the character of Rosie, it was a master class! We were very lucky to find her."
It's an emotional subject but this is a comedy – how crucial was it for this story to be told with humour?
Jessica: "I think it's important to tackle absolutely everything with humour, there's nothing that doesn't benefit from it."
David: "We never felt we were making a BBC comedy particularly; there was never a pressure to have a laugh every three minutes. This is Shaun and his family's life, we're not trying to give an objective perspective of life with disability, no scenes in the show are made up, so we just told the story as it is."
What do you hope viewers will feel when they watch this show?
David: "It allows you to think about how you would be in that situation, to ask questions about yourself as a parent and see the world as others see it. Good TV helps you have a different perspective on life, and this is one we haven't seen before on television before."
Jessica: "I felt it was a real privilege being part of it and maybe I'm a bit of a fraud for feeling this way but if I see someone out with a learning disabled child now I feel like they are my people. And I think that if you got into the show as viewer and you loved it, it might make you feel like that too."
There She Goes, Tuesday, BBC4, 10pm
Get the latest updates, reviews and unmissable series to watch and more!
Thank you for signing up to Whattowatch. You will receive a verification email shortly.
There was a problem. Please refresh the page and try again.