David Tennant: 'Shakespeare is like catnip for actors and audiences alike'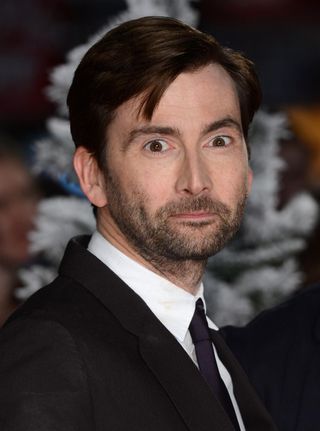 David Tennant talks about hosting BBC2's star-spangled Shakespeare Live! From the RSC to mark the 400th anniversary of The Bard's death.
The cast includes Benedict Cumberbatch, Judi Dench, Ian McKellen, Helen Mirren, Rory Kinnear, Joseph Fiennes and David Suchet in a range of performances all inspired by Shakespeare and his work. You must be excited to a part of that?
"Shakespeare's characters and stories are catnip for actors and audiences alike.
"We have got some of the greatest classical actors around such as Ian and Judi. I have met Judi a couple of times, she is a delicious lady, but we have never been on stage together so that will be exciting for me. Joe Fiennes and I worked together at the RSC 20 years ago, it was my first season and we were in As You Like It."
It will be broadcast from the Royal Shakespeare Theatre in Stratford-upon-Avon, and the audience will include Prince Charles and the Duchess of Cornwall. The fact that it's live is important, isn't it?
"These plays are just as powerful now as they were 400 years ago and it is a real privilege to be part of that. Live performance is what Shakespeare is all about."
Other performers include The English National Opera, comedians Al Murray and Tim Minchin, the cast of Horrible Histories and The Royal Ballet. It's going to give Britain Got Talent a run for its money, isn't it?
"It is like a variety bill, really. The actors will be essential to it, but it is also about all the other culture that Shakespeare has inspired so we have opera, we have ballet, we have hip-hop, all different disciplines, but all celebrating Shakespeare and what he has done for our cultural heritage and life."
Your own performances in Shakespeare's play have won you widespread acclaim. Can you remember your first encounter with The Bard?
"The first time I ever saw Shakespeare performed, which is when it works best and comes alive, was in the very early 1980s in my school gym with a company called Theatre Around Glasgow who came and did As You Like It for us.
"We all got filed in very desultory fashion and sat and watched this performance and I was blown away. I thought Touchstone was the coolest man I had ever seen. Through drama school and ever since then Shakespeare has been a huge part of my life."
Get the What to Watch Newsletter
The latest updates, reviews and unmissable series to watch and more!