David Threlfall as Tommy Cooper: 'It was daunting to play the so-called funniest man in Britain'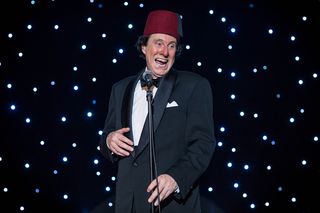 (Image credit: Patrick Redmond +353872600976)
The versatile David Threlfall, best known as Shameless's Frank Gallagher, plays Tommy Cooper in a new drama about the late, great funny man (Easter Monday, ITV, 9pm).
Scripted by Men Behaving Badly's Simon Nye, Tommy Cooper: Not Like That, Like This, homes in on the comic's relationships with his wife Dove and mistress Mary and features an astonishing performance from a virtually unrecognisable Threlfall in the lead role. We caught up with the 60-year-old, who has previously portrayed everyone from Prince Charles and Joseph of Nazareth to William Wordsworth and Constantine the Great, to ask him about the tricks of the trade when it comes to bringing real people to life on the small screen…
Were you apprehensive about taking on this iconic role?
"It was pretty daunting to play the so-called funniest man in Britain – because of course I'm not! It was about assimilating someone who is bigger, who sounds different, but I dream about those gigs. Apart from one other, it was probably the most difficult job I've ever done."
What surprised you most about Tommy Cooper?
"That he smoked 40 cigars a day, and the amount of physical discomfort he was in for a long time, with his bronchitis, high blood pressure and back and leg problems. I was also surprised by how easily you can access footage on YouTube of the night he died, which is chilling to me."
How did you get on with the magic tricks?
"My first reaction was: 'What? I can't do this!' But I was up for the challenge and I got better and now know how some tricks work. If the acting career doesn't pan out, I am available for children's parties and bah mitsvahs."
What drove him to drink, so to speak?
"He had to deliver when he didn't feel like it – maybe that's why he was drinking. I think it was also the result of terrible nerves and self-doubt before he'd go on stage. I can only surmise that he used it to combat that."
What do you make of his relationships with his wife, Dove, and his mistress, Mary, played by Amanda Redman and Helen McCrory?
"My sense is that it was a very physical relationship with Mary, but Tommy would stand by Dove, the woman who made him the man he was and put him on stage. He was juggling the two and I think it allowed him to do the thing that he genuinely loved doing, which was touring."
How good a magician was he?
"The jury's out on that one, but when he started out doing his magic and it went wrong, he realised he'd stumbled on something. You have to remember that, back then, magic was done by people in top hats and tails, so to get things wrong was not only anarchic, but also new. He was inducted into the magic circle, and lost a bit of his timing as the years went by, but people still laughed because they loved him."
Do you think there's romance to be found in dying doing what you love?
"It's not romantic to me. Some people say: 'I think Tommy would have loved to have gone that way', but I'm sure he'd have preferred not to have gone at all."
Is there anyone like Tommy Cooper around today?
"There are funny people around, but not like him. He's unique, and that's the daunting thing about playing him. People call him a genius, whatever that means. His bones were funny, that's just the way he was."
Get the latest updates, reviews and unmissable series to watch and more!
Thank you for signing up to Whattowatch. You will receive a verification email shortly.
There was a problem. Please refresh the page and try again.