Diana Rigg: 'I never relied on my beauty, so I didn't go into mourning about its loss'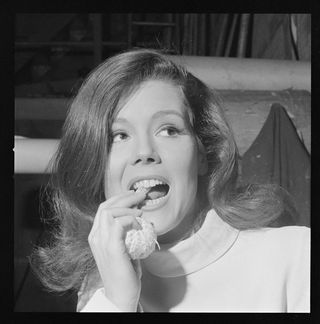 Diana Rigg reveals all to TV Times (opens in new tab) about her new role as the mysterious villainess Dorothea Sutton in Sky 1's star-studded comedy drama You, Me and the Apocalypse...
What's your take on Dorothea?
"She's indomitable, utterly selfish and the mother from hell. I love the opportunity to be bizarre and for her voice I decided on a cross between Katherine Hepburn and Gloria Swanson. The director was so sweet, he let me go way over the top. It was terrific! At my age, there's a criterion when choosing a job of, 'Is it going to be fun?' If it's no fun, it's a no-go."
You get to work with a monkey later in the series, what was that like?
"It has taken me 60 years in the business to finally play a scene with a monkey! I felt sorry for it, but before it came on, the trainer told me, 'Don't look him in the eye and challenge him because he thinks he is the boss, look at his shoulders.' I've dealt with male egos over the years, but now I've had to play second fiddle to a monkey!"
If you knew a real-life apocalypse was coming, how would you spend your final days?
"I'd hate to be surrounded by panicked hysterical people so I would head to the countryside for peace and silence. This country is so beautiful; we have everything in Britain."
Dorothea is terrified of ageing, how do you stay youthful?
"I just enjoy life so I don't mind getting old. Learning lines gets more of a hurdle as you get older so I make sure I know them well and I've got two new knees so going down stairs is not painful now. When I was young I was extremely good looking, but I never relied on my beauty, so I didn't go into mourning about its loss. I want to give people who have had plastic surgery a big cuddle and say, 'Don't put yourself through it; there is a life and plenty of fun after being at the pinnacle of your beauty'."
You worked with your daughter Rachael [by ex-husband, theatre producer Archibald Stirling] on Doctor Who and also in BBC4 comedy Detectorists, do you turn into mum on set and boss her about?
"It was great to play her mother in Detectorists and to be someone subdued and normal! But I wouldn't dare to boss her around, she has got to fly on her own, so I keep quiet. She's never asked for advice because she has always been independent like me and I salute that. I'm very proud though, I love everything she does with a passion, I'm a full-blown Mrs Worthington."
Are you friends with any other acting Dames?
"I'm proud to be a Dame. I know Maggie Smith and she's wonderful, we have had dinner, but I haven't seen her for a long time. I've worked with her son Toby Stephens though, who I adore."
In Spectre, Monica Bellucci is the most mature Bond girl ever, does that please you?
"She is 51, good girl! I was 31 when I did On Her Majesty's Secret Service. The Bond organisation turned their back on that film, they never mention it because it's the one thing that they consider a failure because of George Lazenby, but as far as the public is concerned it's not a failure and it became a sleeper hit. I suspect I will watch Spectre, but I might wait for it to hit television. "
Could a new revamp of The Avengers ever be a hit?
"Well, they made that film [the critically-panned 1998 movie starring Ralph Fiennes and Uma Thurman], which I think answers that! I just think its message is over and done with now and it's 'move on' time."
How long would you like to carry on working?
"Forever, or as long as they will have me! I adore my work and my ambition is just to keep working and keep alive and not croak. When my private life crumbled there were no jobs so I have been through bad patches and I acknowledge my luck now. I would have loved to have done more movies though, but it just didn't happen. I suppose it's not too late, if somebody comes up with something, I'm game!"
What do you do when you are not working?
"I read a lot, I've got my iPad, which I like to play bridge on, and I love dining out and going to the theatre. I love travelling and I live in southwest London, but have a home in France and life is very different there, it's all about the food and wine. But I'm happy to be at home too and I never get lonely, you don't if you have got a good imagination. I don't miss romance either, I'm so grateful not to have to go there again!"
What's next for you?
"I am off to Spain and then Belfast for more Game of Thrones [Diana plays Lady Olenna Tyrell]. And I have just done Professor Branestawm [Harry's Hill's BBC1 comedy which returns at Christmas]. That was heaven and we did laugh a lot. I play yet another loopy old bat!"
You, Me and the Apocalypse screens on Sky 1 on Wednesday at 9pm
Caren has been a journalist specializing in TV for almost two decades and is a Senior Features Writer for TV Times, TV & Satellite Week and What's On TV magazines and she also writes for What to Watch.
Over the years, she has spent many a day in a muddy field or an on-set catering bus chatting to numerous stars on location including the likes of Olivia Colman, David Tennant, Suranne Jones, Jamie Dornan, Dame Judi Dench and Sir Derek Jacobi as well as Hollywood actors such as Glenn Close and Kiefer Sutherland.
Caren will happily sit down and watch any kind of telly (well, maybe not sci-fi!), but she particularly loves period dramas like Call the Midwife, Downton Abbey and The Crown and she's also a big fan of juicy crime thrillers from Line of Duty to Poirot.
In her spare time, Caren enjoys going to the cinema and theatre or curling up with a good book.
Get the latest updates, reviews and unmissable series to watch and more!
Thank you for signing up to Whattowatch. You will receive a verification email shortly.
There was a problem. Please refresh the page and try again.