Ed Stafford: Marooned is 'real adventure as it happens' (VIDEO)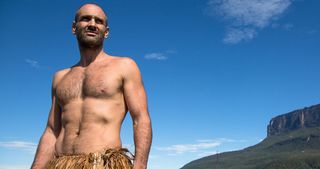 (Image credit: Discovery Communications / Tito)
TV adventurer Ed Stafford was catapulted into five different environments without anything but a camera in his new series, Marooned with Ed Stafford, to film 'real adventure as it happens'.
The world record-breaking adventurer explained his new Discovery Channel series to What's on TV: "It's a very simple concept, it's being dropped off in all sorts of remote places, without anything to help me survive at all. There's no script, there's no plan - it's literally whatever happens, happens. If I can't light fire I'm shivering cold, if I can't find food I'm hungry... I take my own camera, there's no crew and it's literally real adventure as it happens."
Ed continued: "I've been up in the mountains in Borneo, in very different mountains in Venezuela, the jungles of Borneo, the middle of the desert in Botswana, all sort of different environments just to test myself in...
"It's such a challenge each time, even though in my perspective they aren't massively long trips, 10 days in each environment, but when you've got nothing, literally nothing, no knife, no food, no water at all, nothing to help you survive, it's quite a challenge each time."
Marooned with Ed Stafford premieres on Dsicovery Channel on Sunday, May 4.
Watch Ed talking about his high-risk adventures on Marooned... and WHY he undertakes them:
Get the latest updates, reviews and unmissable series to watch and more!
Thank you for signing up to Whattowatch. You will receive a verification email shortly.
There was a problem. Please refresh the page and try again.