Emily Watson on reckless romance Apple Tree Yard: 'You don't see female characters my age who are powerfully sexual'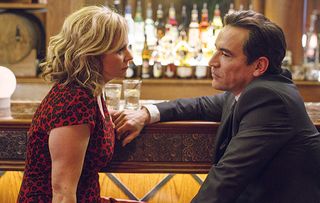 (Image credit: BBC/Kudos/Nick Briggs)
The Oscar nominee Emily Watson talks about shattering stereotypes for her sexually charged new BBC1 drama, Apple Tree Yard.
Anyone who has read Louise Doughty's bestseller Apple Tree Yard will know the lead role is a gift for any actress. But as the novel is turned into a four-part BBC1 series, Emily Watson reveals she had many reservations about playing a doctor in her late 40s, embarking on a reckless love affair...
What can you tell us about Dr Yvonne Carmichael? "She's somebody who makes one very bad decision and it snowballs into something extremely complicated. Some viewers will be cross with her, but I hope most will like her. She's a woman at a point in her life where everything feels like it has happened to her and she wants to know if she's still an attractive woman. Then a very seductive man comes along – I was worried it might be really sleazy, but the affair is actually charming and very mutual. She seizes a moment and lives in a fantasy, but there's a bucket of cold water round the corner…"
Were you immediately keen to take on this role? "I read the script and thought, 'Bloody hell, it's very exposing, very sexual and are you sure you want me, a 49-year-old woman, to play it?' It's a terrible indictment of the industry that I had to ask myself that question, and I still did during filming, going on set and having an affair with a handsome leading man."
Do you think there's still a problem with the way women over 40 are portrayed on screen? "Women of my age play grannies on film, you don't traditionally see female characters of that age who are powerfully sexual. There was that hashtag, 'Oscars so white', but it's also 'Oscars so male' and 'Oscars so young'.
"Apple Tree Yard is a thriller and the story of a complicated grown up marriage and an affair. There's a very serious element to it, and I wanted reassurance that it would be handled in the right way before I accepted the role. I got it, and the cultural topic of sexually powerful women in their fifties is now open for business."
There's a steamy scene in which Yvonne has sex with a stranger in the broom cupboard at Westminster. We hear you weren't allowed to film there? "There seems to be a difference between a man having an affair and a woman having an affair. There was more than one location that wouldn't let us film when they found out it was about a married woman having sex. Whereas if it was James Bond they would have said, 'Come on in!'"
Was it awkward filming sex scenes with your friend and co-star Ben Chaplin? "Almost the first thing I said to our director was that I wouldn't do any nudity, not because I'm a prude, but because I'm vain! There were some very free and frank discussions. When you're a 22-year-old doing those scenes there's a lot of fumbling and wishing they would say cut. But we're two actors who have been around the block a bit so we just sat down and discussed it point by point, making a plan. We wanted it to seem real. I've known Ben for a long time and we were very honest and straight-forward."
Apple Tree Yard premieres on BBC1 on Sunday, January 22
Thank you for signing up to Whattowatch. You will receive a verification email shortly.
There was a problem. Please refresh the page and try again.