Emma Willis: Delivering Babies - 'I spent ten weeks crying more than the babies did!'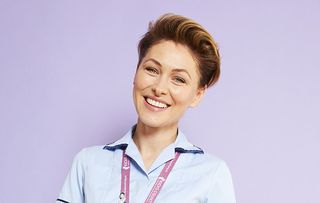 Big Brother and The Voice UK presenter Emma reveals all about her new series...
Emma Willis is best known as the glamorous presenter of Big Brother and The Voice UK, but for her new six-part series, Emma Willis swaps the glitz of television for long 12-hour shifts working as a Maternity Care Assistant on a busy maternity ward.
She'll be working day and night at the Princess Alexandra Hospital, Essex, cleaning delivery rooms, making beds and assisting the midwives as they deliver babies!
Ever since her first child, Isabelle, was born Emma has been in awe of the work midwives do and this six-part series follows her as she finds out just what it takes to work on the front line of midwifery
TVT: Did your mum support you at any of your births?
EW: "Yes, all three! Because she'd seen so many births during her job and she'd been at the birth of my niece and nephew, it made me feel more at ease. I thought, 'If she's calm, then I don't need to panic.' Luckily she had a pretty good game face! Initially Matt and I were like, 'Should it just be the two of us? Should it be our moment?' But afterwards Matt was like, 'I'm so pleased your mum was there!'"
TVT: How did you find working as a Maternity Care Assistant?
EW: "I loved it! Our whole intention of doing this show was that it had to be fully immersive, so I had to do full shifts, full working hours and I didn't want to do it unless I did the actual job that an Maternity Care Assistant does every single week – it had to be all or nothing or I felt it wouldn't be a true reflection. As a result, I got really attached to everybody I worked with and some of the babies were so cute I never wanted to leave their side! I spent ten weeks crying, more than the babies did! But I knew I'd cry – I cry at The Voice. I still pinch myself that I got the opportunity to do it."
TVT: The first birth you witnessed was a home delivery. What was that like?
EW: "It was bonkers and watching that little baby come out was one of the best things I've ever seen in my life! It was pretty sensational and the mum, Laura, was just Wonder Woman – she was incredible I felt so privileged to be welcomed into watch the birth because I just don't know if I could have let someone into mine!"
TVT: Did it make you consider baby number four?
EW: "It did initially, but that soon wore off! It's lovely when you hold a newborn baby and you remember the smell and that bubble that you're in where everyone's looking rosy and life's just amazing… and then you remember the reality and you go 'oh, I've got three, I don't think I've got enough hands for four!'"
TVT: Was there anything you didn't enjoy about the work?
EW: "The bereavement training wasn't fun, it was incredibly hard. Thankfully it wasn't something I experienced in reality, but you do have to go through the training, even if nobody wants to, because sadly it's part of life there."
TVT: What's the best piece of advice you learned?
EW: "I learned a hell of a lot, just watching and observing. But the one thing I say to friends having babies for the first time is to have an idea of what you want but be willing to change that because anything can happen! It's good to have a plan, but it's better to be open-minded and change your goal posts if you have to!"
TVT: Do you think it's a job you could do full time?
EW: "Yeah, I do! Hospitals don't scare me because I've grown up around them and I love people and I'm a hard worker – I'm not opposed to doing a good day's graft. I'm not going to quit my job to do it right now but I do like the fact that I've been able to have a taste of something I always thought I'd do. If I ever get to a point where I have to think of a plan B, I'll know what I'm walking into!"
TVT: Now that Big Brother isn't coming back, is there anything else you'd like to do on TV?
EW: "I'd like to do another fully immersive documentary like Delivering Babies. I'd also like to do another entertainment show, although I they can be hard to get right. Telly is changing, the way we watch and view is very different now and you never know what people want anymore. Like having a baby, it's best to try not to plan too much, so we'll see!"
Emma Willis: Delivering Babies begins on W on Monday at 10pm
Get the latest updates, reviews and unmissable series to watch and more!
Thank you for signing up to Whattowatch. You will receive a verification email shortly.
There was a problem. Please refresh the page and try again.