Exclusive: Caroline Quentin on Dickensian's Mrs Bumble: 'It's so nice to be horrible all day!' (VIDEO)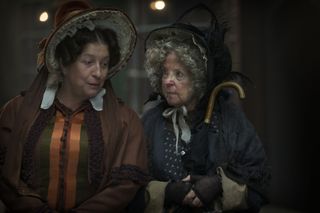 (Image credit: BBC Red Planet)
Caroline Quentin says her latest character, Mrs Bumble, is a truly despicable piece of work, but adds 'it's so nice to be horrible all day'!
Caroline plays the wife of the Beadle (workhouse manager) in a new 20-part BBC1 drama, Dickensian, which premieres on Boxing Day. It's the creation of former EastEnders lead writer Tony Jordan, and brings together Dickens' fringe characters from many of his novels in an audacious new storyline.
Caroline laughed uncontrollably when she described Mrs Bumble (from Oliver Twist) to What's on TV.
"She's really not sympathetic, she's really not," she said. "She's a horrible, HORRIBLE woman. I'm really enjoying it!
"It's so nice to be so horrible all day, I'm just loving it. With most characters you try and find the redeeming part of this person, and it's really, REALLY hard to find anything that redeems her at all… so I'm loving that."
But at the end of a day's filming was she leaving her character behind or taking Mrs Bumble home? "I don't think so… I'll go and phone home and see what the kids say. I hope I'm much nicer to my children than I am to the orphans in the workhouse!"
Caroline added, laughing: "The inspiration to be unpleasant comes terribly easy to me. It must be something that's just below the surface all the time. I'm loving it!
"It's not a reach to be absolutely ghastly to Richard (Ridings, Mr Bumble), I find it easy. I don't know what know that says about me…"
Caroline agreed that Dickensian is an audacious project, reimagining Dickens' characters in a new drama and she thought 'it was a bit of a cheek' when  she first heard about.
"But it works, it really works."
Watch the interview with Diceknsian star Caroline Quentin, above."]
Get the latest updates, reviews and unmissable series to watch and more!
Thank you for signing up to Whattowatch. You will receive a verification email shortly.
There was a problem. Please refresh the page and try again.