Helen McCrory on her gripping role in ITV thriller Fearless and working with co-star John Bishop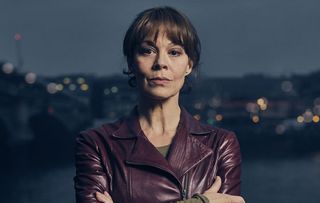 Helen McCrory on playing a human rights lawyer in ITV's dark political thriller Fearless, working with co-star John Bishop and juggling motherhood with her acting career
Helen McCrory's latest role sees her star in ITV thriller Fearless as Emma Banville, a dogged human rights lawyer looking into a potential miscarriage of justice. The investigation sees her investigate the case of school caretaker Kevin Russell (Sam Swainsbury) who has been in prison for 14 years for the murder of a schoolgirl. However, her enquiries soon bring her into the centre of a political storm that has global repercussions.
TV Times asked Helen to tell us more…
How would you sum up Fearless? "I have not read a British series for so long that is such a page-turner with so many twists and turns. It's a legal thriller but it's not a courtroom drama, it turns into something international that looks at what's happening in the world today and touches on big political ideas."
What appeals to Emma about Kevin's case? "Kevin's ex partner Annie [Rebecca Callard] believes he is innocent and approaches Emma to help. Emma has a passion for justice and she smells a rat with the forensics on the original case and as it unravels, it takes her into a terrifying world that she has never been into. But she keeps fighting although she's in unfamiliar water, because she cares and she is fearless because she wants to know the truth."
Emma's work is complicated by the fact that she has opened up her home to a Syrian mother whose husband is a terror suspect, and Emma's own past also has an impact doesn't it? "Yes, Emma is under surveillance herself but there's also a lie that she was told in her past that has damaged her irrevocably. She's vulnerable and is chased by her own demons. By the end you'll realise why she's really motivated to take this case and to defend people because of the injustice that was done to her."
What's her personal life like? "She has put it on pause for work and been a surrogate mother to her clients but now she wants to adopt a child with her photographer partner Steve [John Bishop]. I was really interested in this woman who has sacrificed so much for her job and now realises she can't have her cake and eat it because that has happened to a few of my friends."
What was it like working with John Bishop in Fearless? "Oh he is completely charismatic. I didn't know he did straight drama but when we came to the readthrough, what he brought to the table was so perfect that they went off and wrote several extra scenes for him. He's just brilliant and a really good laugh."
And what was it like reuniting with Michael Gambon who plays Sir Alastair McKinnon, a mysterious academic who becomes embroiled in the case? "I've known him for years; he's just the best so we were thrilled he came on this. I did my first TV job ever with Michael, he played Archie Rice in a BBC2 Performance version of The Entertainer, with Bill Owen and Billie Whitelaw and I played his daughter Jean. Then we did Charlotte Gray together and the Harry Potters, when we just spent our time in Robbie Coltrane's trailer chatting. Michael's a phenomenal actor but cheeky! He's got a filthy sense of humour but I'll save his glittering career and not repeat to you what he tells me on set that makes me laugh!"
You and your husband [actor Damian Lewis] are partly based in New York now with your children [Manon, 10 and Gulliver, 9]. Was it tough to film most of Fearless in the UK? "The children are at school in New York so I thought I wouldn't be able to do Fearless if I couldn't see them. But the production team made it work for me so I could fly back and see them every 10 days, which was amazing. I remember at one point doing Manon's Halloween makeup at 6am while telling my driver I'd be out in two minutes to get my plane. But it was fine because New York is only a six-hour flight and the only time you get six hours to yourself is on a plane!"
Here's a trailer for Fearless
http://www.youtube.com/watch?v=g8VNmYIXwgs
Fearless airs tonight, Monday 12 June on ITV at 9pm
Get the What to Watch Newsletter
The latest updates, reviews and unmissable series to watch and more!
Caren has been a journalist specializing in TV for almost two decades and is a Senior Features Writer for TV Times, TV & Satellite Week and What's On TV magazines and she also writes for What to Watch.
Over the years, she has spent many a day in a muddy field or an on-set catering bus chatting to numerous stars on location including the likes of Olivia Colman, David Tennant, Suranne Jones, Jamie Dornan, Dame Judi Dench and Sir Derek Jacobi as well as Hollywood actors such as Glenn Close and Kiefer Sutherland.
Caren will happily sit down and watch any kind of telly (well, maybe not sci-fi!), but she particularly loves period dramas like Call the Midwife, Downton Abbey and The Crown and she's also a big fan of juicy crime thrillers from Line of Duty to Poirot.
In her spare time, Caren enjoys going to the cinema and theatre or curling up with a good book.