'I went to America and gave it a go…' And now ex Hollyoaks star Ricky Whittle is in American Gods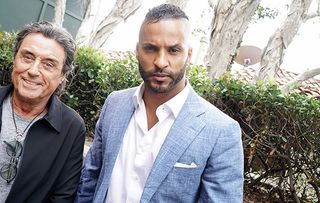 (Image credit: Lauren/Deadline/REX/Shutterstock)
Former Hollyoaks hunk Ricky Whittle told Soaplife about his new role in the US fantasy series American Gods…
You're starring in Amazon Prime's mega new fantasy series, American Gods*, Ricky! "Yes! It's adapted from the fantasy novel of the same name by Neil Gaiman and is an epic show - there's something in it for everyone and there's nothing like it on TV."
Who do you play? "A character called Shadow Moon. He's an ex-con whose wife has been killed and he feels he has nothing to live for. Then he meets this mysterious character called Mr Wednesday.
Played by Ian McShane, right? "He certainly is. Mr Wednesday offers Shadow a job as a bodyguard and, as they journey across America, Shadow finds himself questioning a world where gods exist and magic is real."
Didn't you have to bulk up for the role? "I had to gain 30lbs of muscle, which meant eating 4000 calories a day. At first, it was fantastic and I ate everything in sight – pizza, burgers… "I then had to shape all that extra weight, so I cut back on carbs, sugar, and sodium, and focused on cleaner choices. I also trained for two to four hours a day, doing a lot of explosive exercises and lifting massive amounts of weight."
That's some commitment! "So was the audition process. That took five months in all! It was incredibly taxing."
How do you look back on your time in Hollyoaks as Calvin Valentine? "That show was very intense. I went from a police officer to a drug dealer to stealing drugs from my little sister, I was married twice, I died on my wedding day… It was an incredible education, but there comes a point when you have to chase your dreams. I always try to spread positivity online about chasing your dreams, so I went to America and gave it a go."
What do you miss about the UK? "The British sense of humour and Sunday roasts!"
*American Gods can be streamed on Amazon Prime
Get the latest updates, reviews and unmissable series to watch and more!
Thank you for signing up to Whattowatch. You will receive a verification email shortly.
There was a problem. Please refresh the page and try again.