'I want to surprise people and play a killer,' reveals Celia Imrie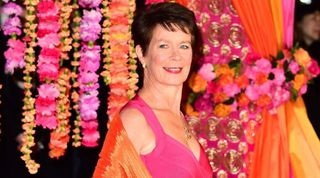 Celia Imrie has revealed she would like to play a brutal killer.
The 62-year-old actress, who is best known for her TV roles in Acorn Antiques and dinnerladies, and playing well-loved characters on screen in films such as The Best Exotic Marigold Hotel, Bridget Jones' Diary and Calendar Girls, hinted she cannot wait to show off her darker side.
"I want to play a murderess. I want to be really horrible," she said.
"I have to say it because people won't think of casting me in that kind of role. I want to surprise people and I want to do something completely different."
Celia, who reprised her role as retiree Madge Hardcastle in The Second Best Exotic Marigold Hotel, recently appeared on ITV sitcom Vicious, alongside Sir Ian McKellen and Sir Derek Jacobi.
After four decades of screen and stage appearances, she is glad people finally know who she is – but admitted she can still go incognito, especially if she's not wearing make-up.
"It depends whether I have got lipstick on or not, funnily enough. I know that is true because I can still get away with it if I'm not wearing it," she said.
Celia also said a third Bridget Jones film shouldn't be made.
The actress, who played Una Alconbury in the two films, said: "It does keep floating around. Maybe Renee [Zellweger] doesn't want to do it. She is still a beauty but it is just completely different.
"I always think, 'Don't do one more'. That's my feeling about anything. I think it is marvellous to leave things at their height. I don't think we should do another Bridget Jones, I really don't. I think it is too late now."
The rule should also apply to The Best Exotic Marigold Hotel, Celia said.
"I would be nervous about a third. I am sure I would say, 'Yes', because it is such an extraordinary experience but, childishly, I always think it is best to leave it because I think it's so lovely as it is," she explained.
"Leave on a high and don't let people try and dilute it. That way, it remains pure and marvellous."
The Second Best Exotic Marigold Hotel is out on Digital HD now and on Blu-ray and DVD from June 29.
Get the latest updates, reviews and unmissable series to watch and more!
Thank you for signing up to Whattowatch. You will receive a verification email shortly.
There was a problem. Please refresh the page and try again.