Sir Ian McKellen goes back to his roots: 'I was surprised to learn I wasn't the first actor in the family!'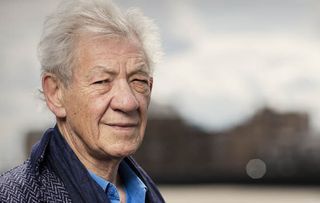 (Image credit: BBC/Stephen Perry/Wall to Wall)
Sir Ian McKellen tells all about discovering actors and social campaigners in his family tree for Who Do You Think You Are?
Sir Ian McKellen's fascinating investigation into his family tree for Who Do You Think You Are? takes him back to his native north west of England, where he learns that he isn't the only actor in the family and, as a dogged activist for gay rights, he was also thrilled to discover that he is not the first social campaigner.
Here, the Lancashire-born star reveals all to TV Times…
Your Vicious co-star Derek Jacobi was on Who Do You Think You Are? Did he encourage you to take part? "Well, I'd been asked before, but I'd said no because I didn't want to cry in public! Then Derek did it and discovered an ancestor who worked for Louis XIV. He didn't seem impressed, but I was! Then [Ian's fellow Vicious co-star] Frances De La Tour discovered she was related to aristocracy and my friend [and X-Men co-star] Patrick Stewart learned that his father was a war hero. They all told me you really don't know what's going to happen."
What were you keen to find out? "My late sister did some research into the McKellen family, but I wanted to find out about my paternal grandmother, Alice. She died before I was born, but she was a remarkable person who spread love wherever she went and I found out that she was a wonderful singer."
How did it feel to discover another of your ancestors, Alice's uncle Frank Lowes, was an actor? "Surprising because I always thought I was the first. When I told my dad I wanted to be an actor, why didn't he say 'My great uncle was an actor'? It would have been a very easy thing to say to a pushy young Ian. I don't think they knew or perhaps they were ashamed."
Do you feel more connected to your family having done the show? "Yes, because they were performers and public servants, with an adventurous attitude and I share those things, so they felt like family. My journey was about discovering people who were socially aware, like Frank's father Robert who campaigned for workers' rights. They were committed to making the world a better place and I learned that, too, from my parents."
You grew up in Bolton and spent holidays in the Lake District, what was it like to go back to both places for the show? "Great, because I don't get back much, but I used to go regularly until my stepmother died. When they told me I didn't need a passport to do the show I thought, 'Thank goodness I'm not going to Tasmania!' The show has really underlined the fact that I am a Northerner. I used to cover up my accent, but I don't any more."
What's next for you? "Well, the live action version of Beauty and the Beast [Sir Ian plays the Beast's butler Cogsworth, alongside Emma Watson and Dan Stevens] is out in the spring and No Man's Land [Ian recently starred in the play in the West End with Patrick Stewart] might do a foreign tour, but I have no plans and I enjoy not working because there are a few places in the world I'd like to explore while I'm still mobile.
"But who knows? I'm open to offers, but there are a lot of old actors to choose from! Some people think we're all the same person. Michael Gambon gets mistaken for me and when people give him a photo of me to sign he writes my name on it. So I do that now too!"
Sir Ian McKellen's Who Do You Think You Are? screens on Wednesday, January 25 on BBC1 at 8pm
Caren has been a journalist specializing in TV for almost two decades and is a Senior Features Writer for TV Times, TV & Satellite Week and What's On TV magazines and she also writes for What to Watch.
Over the years, she has spent many a day in a muddy field or an on-set catering bus chatting to numerous stars on location including the likes of Olivia Colman, David Tennant, Suranne Jones, Jamie Dornan, Dame Judi Dench and Sir Derek Jacobi as well as Hollywood actors such as Glenn Close and Kiefer Sutherland.
Caren will happily sit down and watch any kind of telly (well, maybe not sci-fi!), but she particularly loves period dramas like Call the Midwife, Downton Abbey and The Crown and she's also a big fan of juicy crime thrillers from Line of Duty to Poirot.
In her spare time, Caren enjoys going to the cinema and theatre or curling up with a good book.
Thank you for signing up to Whattowatch. You will receive a verification email shortly.
There was a problem. Please refresh the page and try again.