In the Club's Jill Halfpenny: 'It's taboo for women to admit every part of motherhood isn't amazing'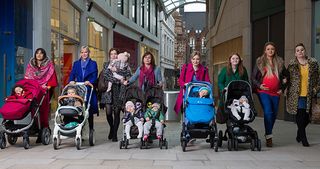 (Image credit: BBC/Rollem/Matt Squire)
TV Times (opens in new tab) catches up with creator Kay Mellor and stars Jill Halfpenny as the hit BBC1 motherhood drama In the Club (opens in new tab) returns to BBC1 (Tuesday, May 3), packed full of secrets, lies, heartache and happiness.
Tenmonths on, life is certainly not a breeze for the drama's six central mums, who all gave birth in the last series...
Kay Mellor: "As every parent knows, once their beautiful bouncing baby has been born, the fun, and the drama is only just beginning, with sleepless nights, feeding regimes, dirty nappies and sometimes strained relationships becoming the order of the day.
"When I left them in the first series, I was bereft and wanted to see what happened to them. I remember thinking how interesting it would be to see how they coped as couples as their children come out of the babyhood stage, because your life changes. When you have a baby, it's lovely and cosy in your arms and then once it gets to about 10 months suddenly you are juggling a million and one things and time becomes a premium and that hasn't really been explored on TV."
In addition to raising their young children, the mums have new issues to deal with, ranging from cash-strapped Roanna's (Hermione Norris) battle to get back to work and revelations about her explosive past, to mum-of-four Diane's (Jill Halfpenny) struggles while husband Rick (Will Mellor) is in prison for bank robbery, and bisexual Kim's (Katherine Parkinson) relationship woes after leaving her lesbian lover for her baby's father. Does it feel really different from the first series?
Hermione Norris: "It does because the first series focused on a particular couple each week as they gave birth, but now things are more spread out although the women do all still get together. Kay is brilliant, I'm her number one fan. She doesn't pull punches and is not shy of looking at real issues, so with Roanna she really explores what it is like trying to get back into the workplace as an older mum."
Kay really does show the reality of motherhood in this series...

Jill Halfpenny: "It is great not to have the telly version where everybody is in nice outfits with their hair done. Diane in particular doesn't have the chance to do that and that's real. It's taboo for women to admit that every part of motherhood isn't amazing, and to say that they are lonely or tired. But that's what many feel, although we're made to think we should be superwomen, so hopefully people watching will go, 'Thank goodness, I thought it was just me!'"
The first series really did strike a chord with viewers. How was the feedback?
Jill Halfpenny: "I'm delighted at the amount I've had from mums and dads who were either pregnant at the time or had just given birth and enjoyed the show because when you have a baby for the first time you are desperate for information and to know if other people feel the way you do."
This time around there are some very hard-hitting storylines as a newborn is abandoned in hospital and there's also surrogacy...
Kay Mellor: "We have fresh faces on board, as Paul Nicholls and Andrew Buckley play gay couple Nathan and Andrew who are expecting a surrogate baby by brash Shelly (Gemma Dobson), the daughter of their cleaner Maxine (Sandra Huggett).
"I was keen to include surrogacy because showing contemporary stories is what we can do differently from Call the Midwife. The staff of the Leeds General Infirmary were great. They told me they get lots of surrogates and sometimes lasting friendships happen for people. But that's boring for me, I don't want it all to end happily ever after!"
Get the What to Watch Newsletter
The latest updates, reviews and unmissable series to watch and more!