James Buckley is pleased to poke holes in the fantasy genre in new comedy Zapped!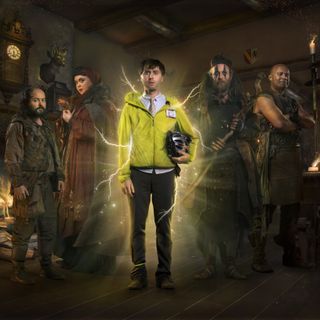 (Image credit: DESWILLIE)
The Inbetweeners star James Buckley believes it's time to take the fantasy genre down a peg or two, starting with his new comedy Zapped!
James Buckley's hilarious Inbetweeners character Jay was forever making up tall tales about his exciting – and usually sexual – exploits, to which his mates would always respond: "Never happened!"
In Dave's ingenious new three-part fantasy comedy Zapped, James, 29, stars as data marketing assistant Brian Weaver, who hits a minor speed bump in his humdrum life when the wrong package is delivered to his home.
Instead of the phone charger he was expecting, Brian opens it to find a strange-looking amulet which, when he puts it on, zaps him to the mysterious land of Munty.
What made you decide to put a comic spin on the hugely popular fantasy genre? "I think somebody needs to start taking it down a peg or two! I'm not a fan of Game of Thrones or hobbits – I just hate all of it. I watched all those Lord of the Rings films and they're just boring and go on forever. So it's time for somebody to start poking holes in that genre, and I'm up for doing it."
What comedy favourites does Zapped compare to? "Elements of it certainly remind me of some of my favourite comedies, including another Dave show Red Dwarf.
"I felt that it had a lot of similarities with Red Dwarf, as the Dave Lister character [played by Craig Charles] is also in a strange situation and trying to get home. It also felt a little bit like Blackadder – particularly the second series - with a character stuck in the middle of a bunch of clowns, and he's the only one to him that makes sense in this situation, while everyone else is just talking gobbledegook."
Zapped is made by Steve Coogan's Baby Cow production company. Does he make an appearance in the show? "I was delighted to be able to film a scene with Coogan, who appears in a cameo role.
"Steve plays a fire sprite who grants Brian a wish. When he came in to film the scene, it was like a master-class on how to be funny."
Zapped! premieres on Dave on Thursday at 9.40pm
Get the latest updates, reviews and unmissable series to watch and more!
Thank you for signing up to Whattowatch. You will receive a verification email shortly.
There was a problem. Please refresh the page and try again.