James Nesbitt: It has 'left an indelible mark on me' playing The Secret's killer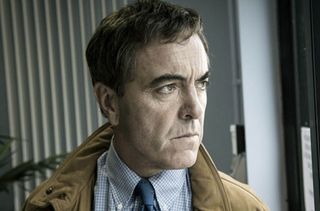 In ITV's The Secret (premieres on Friday, April 29), James Nesbitt plays real-life Northern Irish dentist Colin Howell, who in 1991 murdered his wife and his lover's husband. Howell's terrible crimes were not discovered until almost 20 years later when he finally confessed to murder.
Here, James tells TV Times why the four-part series and his chilling new role will never leave him…
How did you go about trying to get into Howell's mind?
"It has left a pretty indelible mark on me playing this character. We spoke to people that knew Colin and he clearly had a significant level of charm and a forceful personality and was supremely controlling.
"Religion meant a lot to him, but his self-belief meant that he felt that rules didn't apply to him. I know a lot of Baptists and they are Christian, charitable people who will go out of their way to help you. So it was interesting to explore the dark side of that well-respected community and see how wickedness and evil can flourish and grow under the cover of religion."
How do you see Howell's relationship with his mistress, Hazel Buchanan ?
"As daft as it sounds, it is a love story. They had a very combustible chemistry, but the relationship was so poisoned. We show how this love affair escalated into murder because there is no doubt that their chemistry fuelled what happened afterwards.
"The illicit nature of their affair made it very passionate and we felt they were like teenagers with that abandonment of sensibility and they were taken over by the fantasy of it all."
Would you like to have met Colin Howell as part of your research for the role?
"It was the right decision not to and better that I could build my own picture. But I have played real characters before, such as [former MP] Ivan Cooper in Bloody Sunday, and it was enormously helpful to me when I met him, so I wouldn't have minded sitting down with Colin for a while and asking him why he confessed. I'm very intrigued."
You grew up in Coleraine, where Colin Howell lived and committed the crimes, didn't you?
"It was great to go home and film something there that isn't about the Troubles, but it was also interesting because there's a frenzy in Northern Ireland about this drama because everyone has an opinion on Colin, whether they knew him or not.
"My sister used to go to his wife's coffee mornings, two of my best friends were patients of Colin's. Then there is one scene where Colin has dumped the bodies in his father-in-law's garage and runs along the beach to retrieve his bicycle, which he then rides home. He actually ran past the house that my parents had on the beach. They would have been there sleeping, it is quite chilling."
Watch The Secret trailer:
http://www.youtube.com/watch?v=TsYUBr8T6B8
Get the What to Watch Newsletter
The latest updates, reviews and unmissable series to watch and more!