Julia Bradbury - 'Walking is great for mental well-being'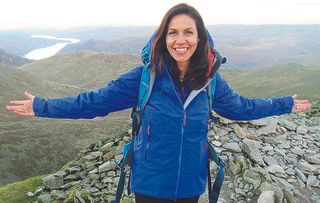 The former Countryfile presenter tells us about her new show Britain's Favourite Walks: Top 100, rambling in the Peak District when she was a child and climbing volcanoes with her son...
Julia Bradbury has been a keen rambler ever since her father took her hiking in the Peak District when she was little and in the decades since she's walked all over Britain, from the coastal paths of Southern England to the snowy mountains of Scotland.
The former Countryfile presenter is not alone, indeed nine million people pull on their hiking boots and make use of the nation's 150,000 footpaths every month, yet which rambling route is Britain's most popular?
After surveying 8,000 walkers, in this special programme Julia and her co-host Ore Oduba will be hitting the trail to count down through the top 100 and there could be a few surprises along the way!
Julia Bradbury tells us more about Britain's Favourite Walks: Top 100, which is on ITV on Tuesday at 7.30pm...
WOTV: What did you think when ITV first came to you with this idea?
Julia: "It was a dream come true! I know we're a nation that's very passionate about walking and loves the countryside, but it was great to get so many people's opinions. When I started putting messages out on social media to get some ideas, the most common response was 'the walk to my local pub' which was very funny!"
WOTV: What kind of trails can we expect to make it into the top 100?
Julia: "Places like the Lake District, the Peak District, Wales and Scotland, were very popular. But there are walks of all kinds from all over Britain on the list. Woodland walks, cliff top walks, city walks, canal walks, it's a wonderful mix and whether you're a hardcore hiker or just enjoy a gentle stroll, there'll be something in there for you."
WOTV: What else will you and Ore be doing during the programme?
Julia: "We meet celebrities, authors and artists, who all talk about their favourite rambling paths, hiking groups who have some great stories and other people whose love for waking has changed their lives. We even speak to an amazing chap with two prosthetic legs who climbs mountains!"
WOTV: Walking is great exercise, but why else is it so good for us?
Julia: "More and more research is being done that suggests it's great for our psychological wellbeing. It's good for your body because its low impact so you're not jolting things around, so it's great for getting fit. But there's something about the rhythm of walking, which clicks with the way our brains operate and makes it good for thinking and problem solving, so it's very good for mental health. I've met numerous doctors and psychologists, who say that if they could prescribe an hour of walking a day to people to overcome a number of ailments, they would!"
WOTV: What is your favourite British walk?
Julia: "It's so difficult to pick my favourite walk because there are so many, but Dovedale in the Peak District probably pips everything else. It's one I walked with my father many times when I was younger and it still gives me a warm fuzzy feeling every time I'm back there. I do love a woodland walk as well though, they are so nice at any time of year."
WOTV: Tell us more about your memories of walking in the Peak District with your dad as a child…
Julia: "Those are such fond memories for me. I'm lucky enough that down the years, in programmes like Countryfile, I've managed to get him out and get his boots back on reminisce about times we've been walking. That's another brilliant thing about walking with your family – it creates brilliant memories."
WOTV: Will your dad be watching the show?
Julia: "Oh definitely! He's my best and worst armchair critic, so he'll have some critical notes about the script, but he'll also be delighted to see all the landscapes and the beautiful places. He'll definitely have something to say about which walk comes top as well."
WOTV: Will you take your children walking in the future?
Julia: "My oldest son is six years old and I think he's the perfect age to get into it. He's obsessed with volcanoes so we hiked a volcano in Tenerife last year, which he loved. We're planning a big walk, just the two of us, for this summer too!"
Britain's Favourite Walk: The Top 100 will be shown on ITV at 7.30pm on Tuesday 30th January.
Sean has been writing about all things telly for over 10 years and in that time he's been lucky enough to interview stars like Ian McKellen, Tom Hardy and Kate Winslet. His favourite shows are The Great British Bake-Off, People Just Do Nothing and Succession and in his spare time he enjoys drinking tea, doing crosswords and watching football.
Get the latest updates, reviews and unmissable series to watch and more!
Thank you for signing up to Whattowatch. You will receive a verification email shortly.
There was a problem. Please refresh the page and try again.