Julie Hesmondhalgh: 'I hope people won't be shocked by Cucumber, but it will cause a stir'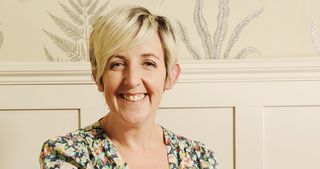 Julie Hesmondhalgh (opens in new tab) tells TV Times (opens in new tab) about her new role as the sister of a gay man in Russell T Davies' new drama Cucumber, premiering on Thursday on Channel 4.
Tell us about your character Cleo...
"She gets slap-bang in the middle of her brother Henry's problems because she loves being involved, but then Cleo starts to have an awakening herself; she realises she hasn't had a relationship in years and decides to seek out an old flame and goes on dates, with varying degrees of success."'
Were you worried Corrie fans would be shocked?
"People were turning up to see Hayley and being a bit shocked by its contents, so I laid out my stall fairly early. I hope people won't be shocked by Cucumber (opens in new tab), because I think people know I've always been very involved in LGBT [lesbian, gay, bisexual and transgender] politics and that I'm not Hayley.
"The issues around Hayley were very important to me, but I'm a different person. I think that Cucumber will cause a stir, but I hope it's something that people would expect me to do.'"
Is your look in Cucumber different from Hayley's?
"In Cucumber I look like me, but a lot better groomed, with nicer clothes and really well-cut hair! It was very freeing to be a bit more like myself."
What has it been like since leaving Corrie?
"I haven't actually stopped working - it's been the most incredible year. When I left Coronation Street I just wanted to be a jobbing actress, but the roles that have come my way have been brilliant. That's because of Hayley's incredible last story. Before that I was pretty much pootling along at Corrie, but deciding to leave gave me that storyline and it's springboarded me into a different kind of acting life than I had before.'
Are you still proud of your Coronation Street legacy?
"I'll never lose that connection because it's a massive part of my life. I'll always be Hayley."
Get the latest updates, reviews and unmissable series to watch and more!
Thank you for signing up to Whattowatch. You will receive a verification email shortly.
There was a problem. Please refresh the page and try again.