Katherine Kelly: 'I look horrible' in 80s drama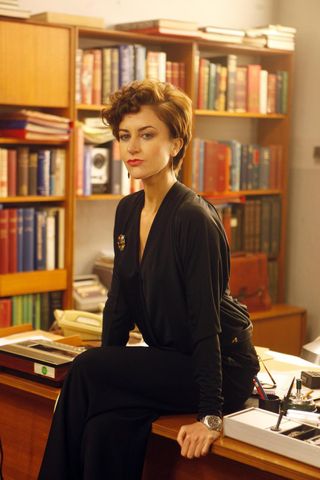 Katherine Kelly is playing one of her most evil roles to date as she stars in the second series of 80s-set crime drama The Field of Blood as a ruthless newspaper editor-in-chief who oversees young reporter Paddy Meehan (Jayd Johnson) while she investigates the circumstances surrounding a suspicious death in Glasgow. The drama screens on Thursday and Friday (August 8-9) on and TV & Satellite Week caught up with her to find out more…
What was the appeal for you?
"Well, I like to take on board challenges and things that I don't 100 per cent feel safe about, so parts that come my way that feel easy I tend not to do because I like to vary things. So I wanted to play Maloney because she is a character who I have never tackled for a length of time... She is a horrible person who has no redeeming features."
How would you describe her?
"She's awful and I dislike her immensely! She is a real product of that Thatcher era of being just out for yourself. I am sure she wasn't born that way, I imagine she is from a grassroots socialist mining town and she has completely turned her back on all of that and just gone out to look after herself. It was really nice to play an out-and-out baddie and I read a lot of books about journalism at that time and just got into that mindset of it being a business."
Did you choose quite a different look as well?
"Yes, I look horrible in it! It is a very severe real 80s villain look, I had all my hair cut off for it and I look really angular and spiky."
What makes this stand out from other crime drama?
"I liked it because it just feels quite an old fashioned crime story really and I think it is sweet that you can't even smoke in the show. You never see anybody inhale a cigarette because in Scotland, where we filmed, you are not allowed to do that on TV, you just have to hold it so it is really weird because in Corrie I was used to smoking my fake cigs, but in this they are just perched in an ashtray or in someone's hand."
What have your own experiences of the press been like?
"Well, 99 per cent of the time I have had good experiences, but I'm a very open person and tell people everything so on Corrie, I learned very quickly that you can't do that because I'd read things back and think, 'Well, I did say that, but I didn't mean it like that'. Using that phrase 'no comment' kills me though because I'm half-Irish and half-Yorkshire and a chatterbox, but it is the only way because things have nipped me on the bum. There is a perception that because you are on telly there is no such thing as bad publicity, but I don't want to read things I've not said."
What was it like filming in Glasgow?
"We filmed in an old school and it was freezing, one of those times when you may as well be outside. It was the first time I had ever been to the city though and it really reminded me of Manchester, that idea of industry up there and the sense that everybody seems to know each other, there is a real friendliness."
Get the What to Watch Newsletter
The latest updates, reviews and unmissable series to watch and more!
Caren has been a journalist specializing in TV for almost two decades and is a Senior Features Writer for TV Times, TV & Satellite Week and What's On TV magazines and she also writes for What to Watch.
Over the years, she has spent many a day in a muddy field or an on-set catering bus chatting to numerous stars on location including the likes of Olivia Colman, David Tennant, Suranne Jones, Jamie Dornan, Dame Judi Dench and Sir Derek Jacobi as well as Hollywood actors such as Glenn Close and Kiefer Sutherland.
Caren will happily sit down and watch any kind of telly (well, maybe not sci-fi!), but she particularly loves period dramas like Call the Midwife, Downton Abbey and The Crown and she's also a big fan of juicy crime thrillers from Line of Duty to Poirot.
In her spare time, Caren enjoys going to the cinema and theatre or curling up with a good book.